Lakewood Native Katherine "Katie" Liston Named Oberlin College Assistant Varsity Soccer Coach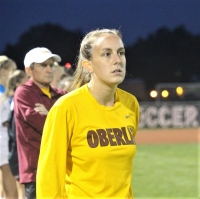 On August 15, 2019 lifelong Lakewood native Katherine "Katie" Liston was named Assistant Coach of the Oberlin College varsity women's soccer team. The opportunity arose when the former Assistant Coach left to become the Head Coach for CWRU. Katie had spent the last two years training goalkeepers for Oberlin's men's and women's teams on a part-time basis while pursuing her medical career. Now, as Assistant Coach, Katie's duties will expand greatly to include practice planning, player development, recruiting and whatever else Head Coach Dan Palmer assigns to her.
Katie was justifiably excited about this new opportunity, saying "Not many 24-year-olds get the chance to coach at the college level. I'm a little bit nervous but mostly excited. It's a lot of hard work, having my first day be the first day of the team's preseason. But having already spent two years helping Coach Palmer, I'm very well-acquainted with the program and most of the student-athletes."
In addition to her two years training goalkeepers at Oberlin, Katie brings a wealth of background to her new position, mostly as a player. Katie was a four-year starting goalkeeper for Carnegie Mellon University (2013-2016) where she established several program records, including most wins and most shutouts (season and career). Katie helped guide the CMU Tartans to back-to-back UAA conference championships and four consecutive NCAA tournament berths. She led the Tartans to the Sweet Sixteen in her sophomore year (2014), during which she also received several team and UAA conference awards. In 2015 Katie was named the Eastern College Athletic Conference D3 Defensive Player of the Year. The ECAC is a consortium of universities across the Northeast and Mid-Atlantic states.
Katie graduated from Carnegie Mellon in 2017 with a B.S. in Neuroscience and a minor in Biology. While at CMU Katie fulfilled all of the traditional STEM requirements, including chemistry, biology, math and physics. CMU's Neuroscience program also requires anatomy, physiology and genetics. Katie is proficient in Spanish. She aspires to a career in medicine as a Physician Assistant but is taking this time off from her pursuit to give coaching a try. Katie does plan to use the connections that Oberlin provides to volunteer her services in healthcare, pursue additional classroom training, and continue her daily workouts.
But for the next two months it's all about college soccer, this time from the bench. Perhaps someday Katie will land a university home at which she can commence her PA studies and coach part-time.
Way to go Katie!
Timothy Liston
Timothy Liston and his lovely wife Dawn have lived in Lakewood for 34 years. They are the parents of two very talented and spirited daughters.
Read More on
Volume 15, Issue 19, Posted 3:29 PM, 10.07.2019