Swim With The Pumpkins At Lakewood Rec's Pumpkin Patch In The Pool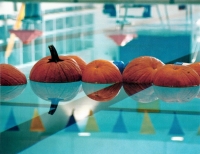 On Sunday, October 27, the clear blue waters of the Lakewood High School pool become the coolest pumpkin patch in Lakewood. Children of all ages are invited to splash their way around the pool to find their pumpkin floating in the water.
Before splashing around to find that perfect pumpkin, we have some cool pool games to play. Young and old will get a kick out of the "slam a pumpkin bball challenge," the cannonball contest, and the witch's hat ring toss. Fun will be had by all ages!
The event "splashes" off at 1pm on Sunday, October 27 at the Lakewood High School pool. Participants should park in the rear of Lakewood High School (between LHS and the baseball turf). The pool entrance is door #14. Pre-register and save at www.lakewoodrecreation.com. Children six years of age and under must be accompanied in the pool by an adult; there is no additional charge for the adult.
There are many community programs offered at the Lakewood High School pool, including weekday lap swims, learn-to-swim classes, swim teams for young and old – the list goes on and on. Our program information for the Lakewood High School Pool, and our other programs, can be found at www.lakewoodrecreation.com, on Facebook, Twitter or Instagram, all by searching for lkwdrec.
Read More on Schools
Volume 15, Issue 19, Posted 5:59 PM, 10.02.2019