Police Union Endorses Jeff Wise for Lakewood Council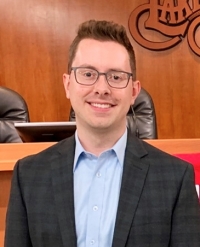 The Fraternal Order of Police Lodge 25 has endorsed Jeff Wise for Lakewood City Council, Ward 3.

The union's endorsement is a powerful statement of support for Wise, a first-time candidate facing an incumbent city council member in November.

Wise has emphasized a record of public service for Lakewood, demonstrated during his years working in the Ohio Statehouse. Along with this experience, his campaign has offered a positive vision of inclusive representation and practical problem-solving.

Following a committee interview and recommendation, Fraternal Order of Police (FOP) Lodge 25 members voted to endorse Wise's candidacy.

"Our law enforcement officers are on the front lines each and every day working to keep Lakewood safe," says Wise.

"Their endorsement shows my strong commitment to public safety and support for those who serve our city. I am honored to have their confidence."

The Fraternal Order of Police is the largest organization of law enforcement professionals in the United States, and Lodge 25 represents more than 500 members on the west side of Cuyahoga County.

The FOP joins a broad coalition of endorsements for Jeff Wise, including the Ohio Environmental Council Action Fund PAC, State Representative Michael J. Skindell, Cuyahoga County Progressive Caucus, and national advocacy groups Democracy for America and Our Revolution.

Lakewood voters will elect city council representatives for the city's four wards, along with other local offices, on November 5. Early voting begins October 8. For more information visit wiseforlakewood.com.
Matt Kuhns
Matt Kuhns is a freelance graphic designer, and occasional author.
Read More on Other
Volume 15, Issue 20, Posted 5:57 PM, 10.02.2019