Experience And Enthusiasm Make The Difference!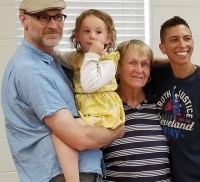 My name is Linda Beebe, and I am asking to be re-elected to Lakewood Board of Education for another four years. I have served on Lakewood BOE for 36 years; I want to be re-elected because I believe public education is vital to the health of my community. I am committed to making Lakewood Schools the best choice for all our children, no matter what their background, abilities, or economic status. Good schools mean more young families, a better informed citizenry and greater stability.
I initially taught English and History – in Scotland and in Lakewood. Since going to law school, I have been an estate planning and probate attorney with a local practice. My two children Aaron and Megan are both graduates of Lakewood Schools. My husband Dr. Bruce Beebe taught at Lakewood High School for 30 years. My connections to Lakewood Schools are strong, and I have been involved in and committed to public education my entire life.
I am running again because I am confident that I bring some distinctive contributions to board considerations. Having school board members without children in the district currently can work to the district's advantage; my role as one whose children are grown is to focus on the needs and experience of all the children in the district. Having someone with teaching experience on the school board brings someone with educational theory and classroom experience into policy discussions. I am an education "nerd"; I love reading about learning theories and best practices. Having someone older on the Board provides a distinctly different perspective from the younger members with children still in school. As an attorney, I attend school law seminars and can bring that knowledge to considerations with legal implications.
I am proud of what we have accomplished in my years on the Board of Education. The most visible of these accomplishments is the complete renovation and/or replacement of all school buildings. We are completing those projects this year with the re-servicing of Taft School as the site of School Board Offices, an expanded pre-school program and further education classrooms. Also, Franklin School will be utilized for the District's Alternative Education program. By hiring competent Superintendents and Treasurers, we have continued to be fiscally responsible, cutting staff to reflect declining enrollment while maintaining programs and increasing our attention to the needs of individual children. Our diverse population is challenging, but the rewards of seeing children succeed are greater.
I want to remain on the Board for the next four years to implement more emotional and physical health support for students. I want us to expand academic opportunities for all: more college credit programs, new and relevant career tech opportunities, advanced Chinese and other specialty courses at the high school. I want the district to look seriously at the international Baccalaureate Curriculum. I want to make sure we have completed implementation of the replacement and maintenance plans for the new facilities. I want to continue to monitor ways we can protect children from bullying and harassment amid the pitfalls of social media. I want to make certain that the Board of Education remains committed to great educational opportunities for all students. The success of our public schools is tied closely to the growth and health of the entire community. I want to continue to be involved in and advocate for a superlative public school.
Linda G. Beebe is a Lakewood resident and member of and candidate for re-election to the Lakewood Board of education.
Linda Beebe
Linda G. beebe
Member of and candidate for re-election to the Lakewood Board of education
My qualifications for serving on the Board of Education are broad and varied. I am a former teacher. I taught English and history in middle and high school for 12 years – in Pennsylvania, in Scotland and in Lakewood. My children Aaron and Megan went to Lakewood schools; my husband Dr. Bruce Beebe taught for 30 years in Lakewood High School; I was in the PTA and led a Girl Scout troop. I have been an attorney for 33 years and have been active in community organizations for over 40 years. I was COC Business person of the year in 1998. I have been honored by the Ohio School Boards Association as an outstanding board member. I am a member of the League of Women Voters and the Lakewood Chamber of Commerce; I have set as a Trustee of the Lakewood Foundation, Lakewood Senior Citizens Inc. and the Barton Center Board of Trustees. I have served as President of the Lakewood Board of Education four times, and have been closely involved in the past 16years in the Lakewood school facilities project that will culminate in the complete rebuilding of our school buildings – on budget and on time.
Read More on Schools
Volume 15, Issue 19, Posted 6:00 PM, 10.02.2019