Danger: Reviews Of Recent Releases By Local Bands, Pt. 95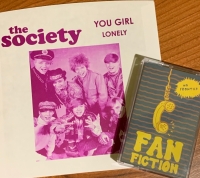 Fan Fiction - No Frontier - Just Because Records - 11 songs - cassette, digital
Fan Fiction returns with the follow-up to their tape from last year, the lengthily-titled, "I Thought You Said The Legend Wasn't Real." 11 tracks of perfectly decent indie rock, all catchy and hooky. Not particularly heavy stuff, but not lightweight either. I think most of the best material is on Side B, like the upbeat "Catch 22" and the sorta-power pop "Creeps," maybe my favorite track on the thing. Side B also closes with a hidden acoustic track about how great a dude Fan Fiction's lead guitarist Joe Vecchio (who also runs the Just Because label) is. It's actually a pretty heartwarming track, another favorite here, and when I think about it, yeah, Joe's probably near the top of the list of people who deserve a song in their honor. Overall, it's a decent tape, though it doesn't have the total hits the first tape had, like "Teenage Landlord." I guess my problem is that it's not quite poppy enough on one hand and then not aggressive enough on the other, though that's really my impossible gripe and not their fault. A solid, likable release either way. 3/5
(justbecauserecords.bandcamp.com)
The Society - You Girl - B-W Records / My Mind's Eye - 2 songs - 7"
Here's a really good archival find. The Society (most of whom were Lakewood High School students) would later morph into the Damnation Of Adam Blessing, but this is their 1967 debut, unheard until now. These tracks are both absolute killers. "You Girl" is a garage fuzz pounder, with incredible guitar playing throughout and a similar vocal line to The Sparkles' "No Friend Of Mine" and, indeed, sounds like something pulled straight off of "Nuggets." There's a guitar solo barely a minute into the song and great call and response vocals: "You're a LOSER!" sings Bill Constable, answered by the rest of the band singing, "You girl!" A total teenage monster here. The B-side, "Lonely," is also absolutely great, trading the fuzz guitar for a slower, organ-driven sound. I wasn't quite sold on it the first few listens, but it really grows on you. And when you think about it, all the best garage singles have the destructo first side with the cool-down flip: "Open Up Your Door" has "Once Upon Your Smile," "Talk Talk" has "Come On In," and "You Girl" has "Lonely." Both sides sound great, too, courtesy of Cleveland Recording and Ken Hamann. Great packaging as well here: looks truly vintage, phenomenal band photo on the cover (and more cool photos on the insert), and interesting and informative liner notes from the garage rock genius Tom Fallon. For fans of garage rock or local stuff or local garage, this is pretty essential. 5/5
(mymindseye.bigcartel.com)
Are you a local-ish band? Do you have a record out? Email vaguelythreatening@gmail.com or send it directly to Observer headquarters: The Lakewood Observer, c/o Buzz Kompier, 14900 Detroit Avenue, Suite 205, Lakewood, OH 44107.
Read More on Arts
Volume 15, Issue 20, Posted 5:57 PM, 10.02.2019