Ward 1 Primary Propels Rodriguez-Carbone To November Election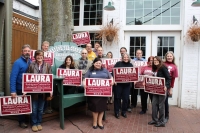 Thank you to everyone who made our primary campaign a success on Tuesday!

My name has never appeared on a general election ballot before. But I will be on the ballot this November. That would not have happened without the support I have met from our Lakewood community.

Voting in a September primary for city council is not something which many people even consider. A different and much larger group of voters will cast ballots in November, and now I have the opportunity to earn their votes.

I am fully committed to working hard for those voters, and for all the residents of our Ward. I will listen, and work to address concerns about traffic, about healthcare, about open and inclusive government. I will offer over 18 years of experience working with different groups and communities to solve real problems.

I am confident that this is what Lakewood is looking for in leadership, but I owe the opportunity in November to those who showed up in September. The people who voted for me were diverse, they were young residents, seniors, Democrats, Republicans, Independents and many new voters. This shows that as a candidate, I am a unifier, reaching across the political spectrum. I believe that the substance of my ideas and clear message that I will represent and give a voice to the people of Ward 1 on City Council resonated with voters.
I am definitely not from old money or the old boys' network. I am not a professional politician, and my only goal in running for city council is to serve Lakewood for a full, productive, and responsive term.

For our campaign to go further is an honor and a challenge. Early supporters have honored me with a general election candidacy, and challenged me to keep going.

I promise that I will respond to this challenge with all I have to offer, just like any challenge which may confront us as neighbors.

Laura Rodriguez-Carbone
Laura Rodriguez-Carbone is a candidate for Lakewood City Council, Ward 1. She is a community leader and advocate with nearly 18 years of experience in the federal and non-profit sectors in fund development, community engagement, and cultivating and expanding multi-sectoral partnerships. She continues to give of her time through service on several public, non-profit, and national boards. Laura is the Community Outreach Coordinator for the Centers for Medicare and Medicaid Services under the umbrella of the U.S. Department of Health and Human Services, working to advocate for the care of all dialysis patients in three States - Ohio, Indiana and Kentucky.
Laura and her husband Christopher own and live in their home on McKinley Avenue with their five cats, Oliver, Ozzy, Oswald, Odin and Prue.
Read More on
Volume 15, Issue 18, Posted 3:47 PM, 09.18.2019