Students Find Engineer Camp Life-Changing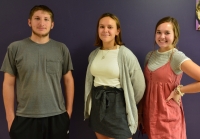 Summer may be over for our students, but at least three of West Shore Career-Tech/Lakewood High students are still aglow from one particular summer educational experience. These three Project Lead the Way students, seniors Miabella Doerr, Nicole Hudak, and junior Alex Schraibmen, attended ASM Materials Camp, sponsored by ASM International at their world headquarters in Aurora and now at least two of the three have found their major of choice thanks to an exceptional experience at the camp.
The students attended on the recommendation of their Project Lead the Way teacher last school year, Bob Sedlak. Both Nicole and Mia said they agreed to attend the camp because it might look good on their resume for college and they might learn a little something about engineering. Little did they know they would be immersed in the world of materials science through "amazing" and "very cool" hands-on projects that included blacksmithing their own S hook and making pewter castings.
"We worked with metals, learned how to heat treat, learned all about metallurgy, it was absolutely amazing," said Mia.
The 30-plus campers came from all over the country for this camp and the LHS trio were three of only five students from Ohio. The ASM Education Foundation provides funding for the campers to attend the 7-day camp for free. The campers are housed in a local hotel and meals are provided as well. Campers enjoy a full day of scheduling.
"We were going from 7 am til about 9 pm each day," Mia said. "They had us busy the whole time," Nicole added. The students were broken into groups for their projects and each group was assigned a professional mentor and a college mentor.
Although all three admitted not knowing much about materials engineering when they started the camp, they quickly learned the many ways materials science impacts our world.
"Once we were immersed into it we saw all the applications that were possible," Mia said.
Nicole and Mia were so impressed by the camp that they are both eager to return one day as college mentors as they both intend to major in materials engineering, thanks to their experience at the camp.
Nicole said although she went into the camp with a bit of trepidation, she couldn't have been happier with the way it turned out. When asked to sum up her experience she simply says, "It was so much fun!" That's the way all learning should be!
Read More on Schools
Volume 15, Issue 18, Posted 3:47 PM, 09.18.2019