Lakewood Rocky River Sunrise Rotary New Member And Rotary Exchange Program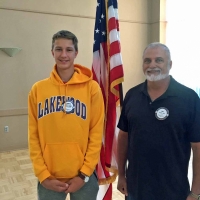 The Lakewood Rocky River Sunrise Rotary recently welcomed new member, Eric Jolly. This is Jolly's second experience with Rotary, as he was a Rotary International Exchange Student in Australia in 1972 and 1973. Eric is retired from Prudential and Progressive Insurance Companies, where he was responsible for home and auto claims processing. He and his wife Anne live in Lakewood.
The Club also welcomed Konsta Keranen, a Rotary Exchange Student from Finland, who will be hosted by the Sunrise Rotary during the 2019 -2020 school year. He will attend Lakewood High School as a Junior. He has joined the Cross-Country Team and will play basketball this fall and winter.
Rotary Youth Exchange is a program of Rotary International that gives high school age men and women the opportunity to spend up to 12 months in another country living with local host families. These families, with the support of the school staff, arrange for their classwork and provide activities that give the student a chance to experience authentic American living.
Rotary Youth Exchange is one of the many youth leadership development programs offered by Rotary.
Living in a foreign country is a powerful way to gain global understanding and promote world peace. Through the Youth Exchange Program, exchange students learn perfect new language skills, discover different cultures and make friendships that last a lifetime.
The objectives of the Rotary Youth Exchange program include: Instilling international understanding and goodwill in the participant, while making lasting connections for host clubs, host families, and the community they live in.
The Lakewood Rocky River Sunrise Rotary Club was established May, 2007, its members plan and coordinate Community, Youth, Vocational and International service projects in these cities. If you are interested in using service as a means of connecting with like-minded men and women in this area, contact – Kimberly.t.murphy@gmai.com
Larry Faulhaber is PR Committee Chair for Sunrise Lakewood Rocky River Rotary Club.

Larry Faulhaber
PR Committee Chair for Sunrise Lakewood Rocky River Rotary Club
Read More on
Volume 15, Issue 18, Posted 3:47 PM, 09.18.2019