Internationally Acclaimed Folk Duo to Appear At Lakewood Public Library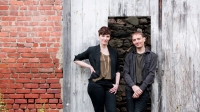 A whispering tree evokes the peaceful harmony of nature, the subtle call of natural forces. For singer/songwriter Eleanor Kleiner and multi-instrumentalist Elie Brangbour, the imagery and symbolism contained within that name call forth the music that expresses their very essence.
This internationally acclaimed folk duo will appear Sunday, September 29, 2019 at 2:00 p.m. in the Main Library Auditorium. The Whispering Tree will bring their original folk-rock full of evocative lyrics, nature imagery, insights from travel, and a style that encompasses traditional folk, indie rock, classic rock, and 1960s pop and rock and roll.
The duo, who currently live in the Hudson valley in upstate New York, met at music school in London. Kleiner is American and Brangbour is French. Their international flavor has allowed them to take their music from New York City to South America to a seven-month gig in China. Their fourth album, Invisible Forces, was number one on the International Folk DJ charts in September 2018, with four songs in the top twenty.
Come to the Lakewood Main Library on September 29, 2019 to experience the beautiful harmonies of The Whispering Tree. All programs are free and open to the public.
Read More on Library
Volume 15, Issue 18, Posted 3:47 PM, 09.18.2019