Luca Mundaca Performs At Lakewood Public Library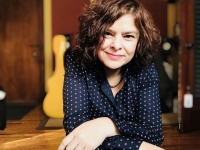 With a voice clear and warm, the music of Luca Mundaca refreshes like an ocean breeze off her native Brazilian coast. The talented singer and songwriter brings her sophisticated sound to Lakewood Public Library on Sunday, September 15, 2019 at 2:00 p.m. as part of our Sunday With The Friends programming.
For over a decade, Hollywood has been featuring Mundaca's music in films and television. She won the Independent Music Award in the World Fusion category in 2008 and has garnered both national and international acclaim for her albums, "Day by Day" (2005) and "Premerio" (2011).
With the smooth perfection of her voice and the beauty of her melodies and lyrics, Luca Mundaca has a gift you need to hear. The concert takes place in the Main Lower Level Auditorium.
Read More on Library
Volume 15, Issue 17, Posted 6:27 PM, 09.04.2019