Join The Discussion On World Affairs At The Library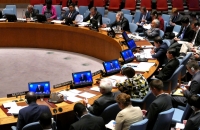 Discuss world affairs with friends, neighbors and experts during Great Decisions, America's largest discussion program on world affairs. Every year the Foreign Policy Association highlights eight critical foreign policy challenges facing the United States. Each discussion will focus on one of the policy challenges, featuring a thirty minute video and an expert-led discussion.
This year's discussion series begins on Thursday, September 12, 2019 at 7:00 p.m. in the Main Library Multipurpose Room. Karl Kaltenthaler, PhD, will lead a discussion on Cyber Conflict and Geopolitics. Kaltenthaler is a professor of political science at Akron University and Case Western Reserve University. Cyber conflict is a new and continually developing threat that can include foreign interference in elections, industrial sabotage, and attacks on infrastructure. Is the United States prepared to respond to such threats?
Discussions will take place throughout the fall and winter months and topics include The Rise of Populism in Europe (September 26, 2019), Nuclear Negotiations: Back to the Future? (October 10, 2019), The United States and Mexico: Partnership Tested (October 24, 2019), The Middle East: Regional Disorder (January 9, 2020), Decoding U.S.-China Trade (January 23, 2020), State of the State Department and Diplomacy (February 13, 2020) and Refugees and Global Migration (February 27, 2020). Attend the discussion that interests you most or attend all of them.
All Great Decisions discussions take place on Thursday evenings at 7:00 p.m. in the Main Library Multipurpose Room. Readings will be available at the Main Library circulation desk one week prior to the discussion. Bring your thoughts and join the conversation.
Read More on Library
Volume 15, Issue 17, Posted 6:27 PM, 09.04.2019