Jason Shachner: A New, Experienced Voice For Ward 2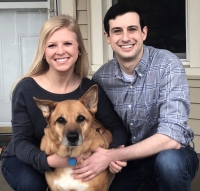 My name is Jason Shachner and I am running to be your next Ward 2 Councilperson. My wife, Michelle, and I own a home on Cook Avenue with our 12-year-old shepherd mix, Tessie. Lakewood is home for us because of its schools, parks, walkability, unique restaurants and businesses and, most of all, its strong sense of community. I am running for council because Lakewood should be able to support you at every stage of your life. Whether you are a new family or ready to retire, I want you to be able to call Lakewood home.
Early in my life I was aware of the fundamental unfairness that success is often dictated by things beyond your control. Things such as your zip code, your race, your familial wealth, religion, or sexual preference. This is why I have devoted my life and career to public service.
My first job out of college was as a community organizer. I served as an AmeriCorps VISTA Fellow for the non-profit organization Turning the Page. Here, I worked to increase parents' participation in their children's education so that they could betted advocate for their children's future. I created PTAs and PTOs, led parent leadership trainings, and, most importantly, scoured the community for potential leaders and helped foster their ability to initiate change. After serving as a VISTA, I worked with the community organizing branch of Empowering and Strengthening Ohio's People. I knocked on doors in the Hough, Mount Pleasant, and Slavic Village neighborhoods to organize residents to advocate for their communities. I worked with neighborhood organizations, like the Concerned Citizens (Mount Pleasant neighborhood) and Hough Residents in Action (Hough neighborhood), in efforts to stabilize their neighborhoods by combating blighted and vacant properties.
I wanted to do more, so I pursued a law degree at Case Western Reserve University School of Law, where I continued my path of public service. While at Case, I worked for the Legal Aid Society of Cleveland's Housing Practice Group, where I focused on helping low-income individuals and families secure and retain decent, affordable housing, and helped enforce tenants' rights, by addressing issues such as housing conditions, evictions, and housing discrimination. I earned the Saul S. Biskind Public Interest Fellowship that is awarded to students with a demonstrated commitment to legal work in the field of public interest law. I also served in Case Western's Criminal Justice Clinic representing people who could not afford an attorney; worked for the U.S. Attorney's Office's Criminal Division; and served as an Executive Editor on the Health Matrix: Journal of Law and Medicine. I graduated cum laude with an honors certificate in criminal law.
Today, I serve in a position that has given me direct experience in local government. I am currently an Assistant Prosecuting Attorney in the Lake County Prosecutor's Office Criminal Division. My job is to seek justice and I take that responsibility seriously. I work together with law enforcement officers to help ensure the safety of the community and provide a voice for victims. I previously served in my office's Civil Division, where I provided legal advice and counsel to elected officials and department heads including the Board of Commissioners, the Department of Utilities, the Sheriff's Department, and the Planning Commission. I was responsible for drafting resolutions, reviewing and creating bid packages for large public works projects, and representing the county in legal matters. These skills would directly transfer to work on Lakewood City Council.
I am actively involved in our community. I am on the board of Lakewood's Community Recreation and Education Commissions' Youth Athletic Commission, where I served as Secretary for two years. In this position, I strive to ensure that our youth have access to top notch recreational and educational activities. I previously served on the Lakewood Heritage Advisory Board.
My job experience together with my community involvement has prepared me to effectively and thoughtfully represent you. My experience in community organizing taught me the importance of speaking with stakeholders and engaging with the community when crafting policy. We can improve trust and participation in our city government by not just focusing on the loudest voices, but by seeking out the opinions of all our neighbors. That means making affirmative efforts to reach people where they are.
On this campaign, I have taken the time to get to know you. I have knocked on thousands of doors and personally spoken with more than a thousand of our neighbors. One (of the many) things I learned is that you love Lakewood. Many of you were raised here, many of you raised your children here, and many of you are lucky enough that your grandchildren are being raised here as well. The rest of Northeast Ohio has finally caught up with what you have known all along; that Lakewood is the place you want to call home.
This means that Lakewood is growing, and I am running for City Council to ensure that we are all growing with it. That no one gets left behind or pushed away. Lakewood owes its success to you; the people that call Lakewood home. You invested in our schools, our businesses, and our neighborhoods. I want to serve you, to ensure that Lakewood's success is your success.
Let us keep moving forward by working together. I would be honored to earn your support this election day, November 5, 2019.

Jason Shachner
Jason Shachner is currently serving as an Assistant Prosecuting Attorney in the Lake County Prosecutor's Offices' Criminal Division. He lives on Cook Ave. with his wife, Michelle, and their 12-year-old shepherd mix, Tessie. He is a candidate for Lakewood City Council Ward 2. To learn more please visit www.shachnerforlakewood.com.
Read More on City Council
Volume 15, Issue 17, Posted 6:27 PM, 09.04.2019