International Dot Day Fun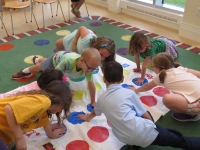 International Dot Day was created to encourage students to explore their creativity. The inspiration behind the event is the children's book "The Dot" by Peter H. Reynolds. It tells the story of a teacher who motivates a doubting student to trust in her own abilities and from a dot on a page the child goes on to make her mark. The book "The Dot" has been translated into over 25 languages, including Braille. Since the first Dot Day in 2009, the number of involved students in both schools and libraries around the globe has skyrocketed. It has grown to a world-wide celebration with children from 181 countries expected to participate in 2019.
Students in kindergarten through fifth grade are invited to join the fun of International Dot Day at the Lakewood Public Library on Friday, September 13, 2019 from 4:00 p.m. to 5:30 p.m. in the Main Library Activity Room. Following a reading of the book "The Dot," participants will be given the opportunity to express themselves by making a dot filled art project to take home and by contributing to a group dot art project that will be displayed in the Library. The program will include playing the ultimate dot game, Twister. Registration is required. Register online at lakewoodpubliclibrary.org/youth or call (216) 226-8275, ext. 140.
Read More on Library
Volume 15, Issue 17, Posted 6:27 PM, 09.04.2019