Harding Teacher Chosen As Art Museum Fellow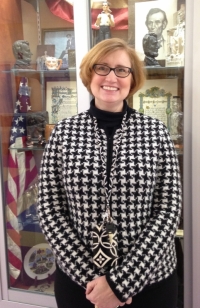 Harding Middle School English Learner (EL) teacher Pam Thompson is on of 10 educators from across Northeast Ohio chosen to be Cleveland Museum of Art Teaching Innovation Fellows for the 2019-2020 school year. She follows in the footsteps of previous Lakewood Schools CMA Fellows Sean McGuan and Autumn Sabin.
Thompson kicked off her fellowship this summer with a Summer Teacher Institute in July. During the summer session, the Fellows explored a variety of object-based learning methodologies and objects in the CMA collection. As the year progresses, Fellows will hone in on a research question impacting their own teaching and look for answers as to how can art be used as a learning tool across grade levels and disciplines. Fellows will reflect on experiences and will develop an object-based experience, which they will complete before the end of the school year. Fellows will meet 3-4 times to prototype ideas with each other, provide feedback, and report on the progress of their individual action-based research question/project.
Thompson's project will involve incorporating culture and promoting language development with her EL students using art from their native countries. "Many ELs from war-torn areas have few cultural icons left. The Cleveland Art Museum is a terrific resource for students to make that personal connection with the artifacts in its collection," Thompson said.
Read More on Schools
Volume 15, Issue 17, Posted 6:27 PM, 09.04.2019