Dear Lakewood, Thank You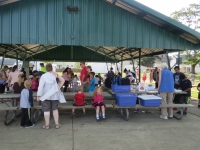 Dear Lakewood,
Thank you for helping our youth Read to the moon and back during the summer of 2019!
Thank you to parents, grandparents and caregivers who encouraged summer reading and registered their family members to participate at the Library. Thank you also to the 1,027 adult readers who set a stellar example for our young people by participating in the adult summer reading program. Monday, May 13, 2019 began a reading journey at the Lakewood Public Library. The annual summer reading club themed "A Universe of Stories" attracted 1,768 youth. Over a twelve week time period, 743 youth readers met the goal of 30 books, 30 chapters or 30 hours of reading by Monday, August 5, 2019! We should all be proud of our Lakewood readers. They couldn't have done it without you!
Thank you to all the local businesses for their support of summer reading by donating prizes to help motivate youth and adults to read and reach goals. Your generosity helped improve reading skills and helped develop a love of reading that will serve them well for the rest of their lives. You truly make a difference.
Angelo's Pizza Beat Cycles Blackbird Baking Company
Blossom Cleveland Cleveland Monsters Dewey's Pizza
Geiger's Lakewood Insomnia Cookies Lion and Blue
Madison Square Lanes Bowling Alley McDonald's Melt Bar and Grilled
Nosotros Rock Climbing Gym Papa John's Pizza Pink Lotus
Sport Clip Haircuts Sweet Designs Chocolatier The Sweet Spot
The Tea Lab Threefold Gifts Weird Realms
Thank you to the Friends of the Lakewood Public Library for their generous funding. The Friends work hard for the funding they provide to entertain and educate families. The funding they provide pays for Special Friday Performances, BAM gift cards to Books-A-Million, and the purchase of books each reader receives when they finish their goal. They also create extraordinary gift baskets for our young patrons who are grand prize winners. Summer reading wouldn't be the same without them.
This summer of 2019 was out of this world! See you next summer!
Julie Strunk
I am Manager of Children's and Youth Services at the Lakewood Public Library.
Read More on Library
Volume 15, Issue 17, Posted 6:27 PM, 09.04.2019