Functional Medicine Mini-Series At Lakewood Public Library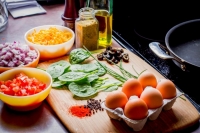 Healthy living is built upon ideas, best practices, and thoughtful intentions. Broaden your knowledge of healthy living with the Functional Medicine Mini-Series this September.
Join Lakewood Public Library and Cleveland Clinic Lakewood Family Health Center staff for a series of educational lectures on health topics throughout the month. These lectures will take place as part of the Healthy Communities Initiative of the Cleveland Clinic.
Dietitian Lindsay Malone will kick things off on Wednesday, September 4, 2019 at 7:00 p.m. to discuss The Ketogenic Diet. This popular diet has many potential health benefits, but what is fact and what is fiction? Find out if this low carbohydrate diet is nutrition therapy or just the newest craze.
According to Functional Medicine Director Dr. Mark Hyman, healthy living is largely impacted by your community. Hear from Dr. Hyman on the ways that community can impact your own health. Dr. Hyman will speak at Lakewood High School cafeteria on Wednesday, September 11, 2019 at 7:00 p.m.
Shared medical appointments can serve as a way to facilitate patient discussions, and Cleveland Clinic has been putting this type of group appointment into practice for twenty years. Join Physician Assistant Logan Kwasnicka and Health Coach Kevin Heine to discuss Shared Medical Appointments and the Power of Social Connection on Wednesday, September 18, 2019 at 7:00 p.m.
In our hectic world, finding a moment for relaxation and mindfulness can be difficult. Learn techniques to combat the chaos with Health Coach Kevin Heine on Wednesday, September 25, 2019 at 7:00 p.m. Join us for a lecture on Functional Movement, Stress Reduction and Mindfulness, and be prepared to learn how to relax the body and clear the mind.
With the exception of Dr. Hyman's talk, all presentations will take place in the Main Library Auditorium. Registration is preferred for these events, but not required. Register at clevelandclinic.org/comelearnwithus.
Photo courtesy of My Fit Station.
Read More on Library
Volume 15, Issue 16, Posted 3:19 PM, 08.21.2019