Councilman Rader Endorses Rodriguez-Carbon For Lakewood City Council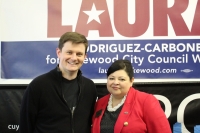 I'm excited to announce my support for Laura Rodriguez-Carbone for Lakewood City Council Ward 1. Ward 1 deserves a leader who is willing to put in the hours to make sure your voices are heard and represented. Laura is that leader.
Her story is truly inspiring. She spent parts of her youth homeless. During high school, she worked two jobs to help put a roof over her family's heads. She persisted through all this to earn a Master's Degree, and then went straight to work fighting for the civil rights of children in public schools.

What makes Laura so inspiring is that not only did she overcome difficult odds, she never stopped fighting for others.

Laura is motived at her core by a belief that everyone has a place in our community and in this world, that no one should be left behind because of where they were born, how much they have, who they love, the color of their skin or what language they speak.
It is also not a trivial matter that when elected, Laura will be the first person of color to hold any elected office in the City of Lakewood. For a city that is becoming more diverse, it will make a positive difference that more families who call Lakewood their home—including many from Spanish speaking countries—will see someone in leadership who understands their situation and who have lived their struggles.

I encourage you to get to know Laura and on September 10 vote Laura Rodriguez-Carbone for City Council.

Councilperson Tristan Rader
Lakewood City Council
Tristan Rader
Tristan W. Rader began his term as Lakewood Council Member At-Large in January 2018. Lakewood's At-large Council members serve the needs of the entire city, help individual residents with all kinds of issues and guide the city as a whole in the right direction. He also serves as Solar United Neighbors' Ohio Program Director. Tristan received his MPA in 2015 from Cleveland State and is a proud owner of one of Lakewood's beautiful century homes, where he lives with his wife, Caitlin, and dog, Marcus.
Read More on City Council
Volume 15, Issue 16, Posted 3:19 PM, 08.21.2019