Sinatra CLE In Concert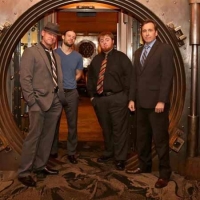 Re-live the glory days of Ol' Blue Eyes and the Rat Pack when Sinatra CLE takes the stage at the Main Library Auditorium at 2:00 p.m. on Sunday, August 11, 2019. One of Cleveland's premier Frank Sinatra tribute acts, Sinatra CLE was founded by vocalist Patrick Lynch. In addition to performing iconic songs of Ol' Blue Eyes, Sinatra CLE also performs the hits of Dean Martin, Michael Buble, and Elvis. This iconic jazz ensemble will take you back in time to the great Rat Pack performances of the '50s and '60s.
Inspired to found Sinatra CLE after returning from a trip to Las Vegas ten years ago, vocalist Patrick Lynch has put together a band like no other in Northeast Ohio. Patrick's energy and personality will have you swooning like a teenager as you become entranced by the greatest music of all time.
Sinatra CLE's concert takes place on Sunday, August 11, 2019 at 2:00 p.m. in the Main Library Auditorium located at 15425 Detroit Ave., Lakewood, OH. Admission is free and open to all ages.
Read More on Library
Volume 15, Issue 15, Posted 2:59 PM, 08.07.2019