Matthew Fredrickson For Ward 1 Lakewood City Council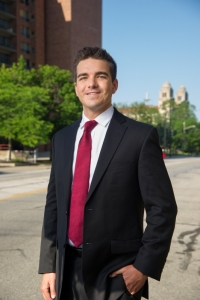 I am running for Ward 1 Lakewood City Council and look forward to combining business acumen and an acute understanding of politics and issues along with compassion to serve the residents of Lakewood.
After completing my degree in petroleum engineering and working in the state of Texas, I returned home to Northeast Ohio seven years ago. I earned an MBA from Cleveland State University and currently work as a business analyst for a national, Cleveland-based aerospace company. I will add balance to Lakewood City Council by taking on issues facing Lakewood and its citizens with attention towards increasing revenues, decreasing costs, responsible government spending and helping businesses open and thrive in our community.
After working for a re-election committee for a Republican U.S. Congressman and volunteering in local and federal elections, I am proud to have received the endorsement of the Republican Party of Cuyahoga County. I currently serve on the RPCC Finance Committee, which has kept me apprised of local issues and challenges. I look forward to continuing to serve my community through working with Lakewood City Council to maintain affordable housing, efficient and timely first responders and cost-effective, thorough public services.
Through my experience in engineering, business and politics, I have learned the effectiveness of being flexible and the importance in listening to varying data and opinions. I will bring these skills along with my compassion for people and their challenges and successes to Ward 1 and the Lakewood community.
Matthew Fredrickson
I am a Lakewood resident running for City Council Ward 1
Read More on City
Volume 15, Issue 15, Posted 2:59 PM, 08.07.2019