Dining At Sarita August 14 Supports Meals On Wheels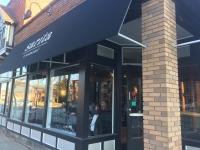 Wednesday, August 14 offers an opportunity to enjoy fine dining and support a worthy local cause as Lakewood's "sarita," a restaurant, will donate 20% of meal tabs to West Shore Meals on Wheels (WSMOW). As with every Wednesday at sarita, diners can also order bottles of wine at 40% off. (In case you are wondering, sarita styles its name all lower case.)
WSMOW serves Rocky River, Lakewood and Fairview Park, delivering nutritious home-cooked meals to individuals who have difficulty purchasing and preparing their own food.
"Our service is not just a food service for the elderly, though it does allow many to stay in their homes when they can't drive or manage preparation of healthy meals," explains Lauren Walsh, a long-time WSMOW board member. "We also deliver our low-cost meals to others who have a temporary or long-term need, such as individuals who are disabled, recovering from an accident or surgery, even new mothers and returning service members.
"Whatever their situation, our service helps ensure the nutritional needs of our clients while keeping them connected with the world beyond their doors," says Walsh. "For some of our clients, their interaction with our volunteers is the only outside contact they may have all day long."
Clients do not need to meet income qualifications to receive MSMOW services; they pay just $8 a day for Monday-Friday delivery of both a freshly prepared cold lunch and a hot meal.
WSMOW is a 501(c)3 non-profit organization that relies entirely on volunteers and private donations, and does not receive government subsidies. Donations in the form of cash contributions as well as food from local supporters and merchants subsidize the organization's operating expenses.
"Volunteers are certainly our most important asset, and one that we can always use more of," Walsh says. "Kitchen volunteers prepare meals under the guidance of our trained chefs. Other volunteers deliver meals one day per week, often working in teams of a driver and a 'hopper,' who take meals to the door. We also need volunteers to help with administrative tasks such as updating our contact lists, interviewing potential clients and helping to represent the organization at community events. We even have 'volunteer from home' opportunities."
Award-winning sarita chose WSMOW as one of two charitable organizations it is committed to supporting on an ongoing basis. Since 2018, the restaurant has been donating 20% of orders for two selected menu items to WSMOW all year long.
"Feeding people is our passion," says Sandy Smith, co-owner of sarita. "The thought that our seniors have to go without a healthy meal because of lack of funds, or they are physically unable to prepare food for themselves, is heartbreaking.
"We chose Westshore Meals on Wheels after meeting the amazing volunteers and seeing their passion," Smith explains. "These volunteers provide home-cooked meals and a smile to all they touch. We are grateful for the work they do. We are proud to support such an amazing organization."
On August 14, diners can support WSMOW by ordering anything on sarita's menu, from starter specialties such as Phyllo and Pecan Encrusted Brie, Sweet Potato Pierogies and Tuna Tartar; entrees including seafood, meat and vegetarian options; to desserts including Mascarpone Cheesecake, Triple Chocolate Tart and a Deep Fried Banana Split.
Reservations are recommended for this WSMOW annual fundraiser; call (216) 226-5200. Dining is available from 5–10 p.m. inside or on sarita's charming patio at 14523 Madison Ave., Lakewood OH 44107.
For more information about West Shore Meals on Wheels, call (440) 333-6298 or go online to www.mealsonwheelsrr.org. To get a preview of sarita's menu, browse to www.sarita-restaurant.com/food.
Deborah Denney is a volunteer with Rocky River Lakewood Meals on Wheels.
Deborah Denney
Deborah Denney is a volunteer with Rocky River Lakewood Meals on Wheels.
Read More on Non-Profit
Volume 15, Issue 15, Posted 2:59 PM, 08.07.2019