Council Passes Resolution Endorsing Climate Action on Multiple Fronts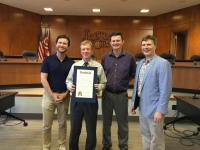 Lakewood City Council has voted unanimously in favor of robust U.S. leadership away from fossil fuel pollution and toward a future of better jobs and clean energy.
At its July 15 meeting, the seven-member council passed a resolution endorsing national policy visions, congressional legislation, and local action to avert costly climate change.
"Climate change is already affecting Lakewood in the form of severe storms, higher lake levels, higher temperatures, and changing weather patterns," said At-Large Councilman Tom Bullock.
The council resolution, introduced by Bullock and At-Large colleague Tristan Rader, endorses two bills currently before Congress. H.Res.109 calls for a Green New Deal. The lesser-known Energy Innovation and Carbon Dividend Act (H.R. 763), which supporters describe as a complementary measure, would institute a fee at the federal level for carbon pollution and pay out the proceeds to all U.S. citizens as a dividend.
Council's resolution also endorses the Solidarity for Climate Action platform of the BlueGreen Alliance, a coalition of major unions and environmental groups.
"Labor union support for these plans is key, since creating family-wage jobs is just as important as climate goals," said Bullock. "We won't solve climate change without putting workers first."
Both the Climate Action platform and the Green New Deal are essentially vision statements. They call for an urgent phase-out of the greenhouse gas emissions that are destabilizing the planet's climate. Both also emphasize investment in new jobs and infrastructure to develop clean, renewable energy rather than emphasizing regulations and taxes on fossil fuels.
"Renewables not only preserve our planet, but they also reduce energy costs, create renewable energy jobs right here in Northeast Ohio, and create opportunities for everyone to participate in a more equitable energy system," said Councilman Rader.
The vote by city council sends a message to Ohio's congressional delegation — currently without any cosponsors of the two bills endorsed by the resolution — but also commits Lakewood itself to continued local action.
The City of Lakewood has taken recent steps to shift local energy use to renewable sources and to cope with the negative impacts of climate change. Earlier this year, for example, At-Large Councilwoman Meghan George joined Bullock and Rader in cosponsoring a plan to use municipal buildings for rooftop solar power generation. Lakewood also continues work to expand its tree canopy, which helps absorb carbon released by fossil fuels and protects residents from more frequent hot weather.
Ultimately, however, the July 15 resolution acknowledges that adequate solutions to climate change require state and national leaders to live up to their own responsibilities.
"If our country is ever going to show the political will to act decisively enough to avoid the worst effects of climate chaos, forward-thinking communities like Lakewood need to take the lead in calling for federal action right now," said Glenn Campbell, one of 10 Lakewood residents who spoke in favor of the resolution before council's vote.
Glenn Campbell
PLEASE RUN NO BYLINE ON THIS STORY
Read More on City
Volume 15, Issue 15, Posted 2:59 PM, 08.07.2019