LakewoodAlive To Host Lakewood Tool Box Tool Sale On June 22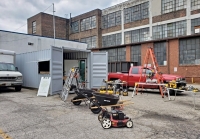 LakewoodAlive will host a Lakewood Tool Box Tool Sale on Saturday, June 22 from 9 a.m. to 12:30 p.m. at the Lakewood Tool Box.

For this garage sale-style event, LakewoodAlive will be selling donated hand/power tools, lawn equipment and miscellaneous hardware to benefit the Lakewood Tool Box. Both cash and credit will be accepted.
The Lakewood Tool Box is housed in a large shipping container that is accessible to the public from the back corner of the Lake Erie Building's East Lot near the intersection of Athens and Halstead Avenues.

LakewoodAlive is still accepting tool donations to help with our tool sale inventory. You can bring your tools to the Lakewood Tool Box on Thursday, June 20 from 3-7 pm. Contact Matt Clark at mclark@lakewoodalive.org or 216-712-6674 with questions or to make arrangements for your donation. Thank you for your support!
Matt Bixenstine
I am the Marketing & Development Manager for LakewoodAlive. I enjoy all things Lakewood, especially walking my basset hound through Madison Park.
Read More on City
Volume 15, Issue 13, Posted 7:18 PM, 07.17.2019