Thank You, Lakewood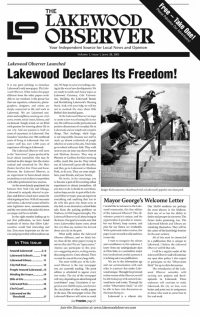 Thank you to everyone in the City of Lakewood for your participation for the last fifteen years! Fifteen!
Back in 2004, to celebrate Independence Day, we launched the print edition of the Lakewood Observer. It was our gift to the City of Lakewood.
At the time, the Lakewood Public Library, Lakewood Public Schools, City Hall, Non-Profits, the Arts and everyday residents had a hard time getting their information out to all.
A group of us got together to first address some of the hatred on social media. At the time there was only one small BBS using fake names, but the hate and the lies flew and made issues unto themselves.
We dedicated ourselves to allowing anyone in to share stories, photos, poems, illustrations, cartoons anything and everything.
Post it, send it in, put your real name on it, and we will help you get it out to the public. Of course, the other part of our deal is, we will also help anyone else that has information or knowledge on a subject to join in and potentially disagree.
At the time, no Face Book, no Twitter, no Instagram, SnapChat, or a hundred other apps and websites.
There was not the massive diffusion of conversation that arrived with Facebook, where any yahoo can declare a page, and set about running it like their magical kingdom.
We sat down and created a vehicle to keep serious discussion going over days, weeks, months, even years. It was called the "Thought Puddle." Today it is the Lakewood Observer Observation Deck, a place that tracks Lakewood through photos, music, and adult discussion about serious topics ranging from Development, City Hall oversight, Crime, Schools, Taxes, Sewers, Arts, National News, Sports and everything and anything. Many discussions filled with hundreds of images and videos stretching back over 15 years!
We are looking forward to good times ahead. We have great commitment from advertisers for a fall and winter of parties, contests and more. We would also like to thank our loyal advertisers who understand that they support an entire community when they advertise with us, and encourage our readers to support them.
We have more "retired" "real" reporters joining the project like Eric Sandy, Erin O'Brien and others.
And we look forward to the residents of Lakewood continuing to step up and share their stories and information with the rest of the community through the Lakewood Observer. In Print, Online and here 24/7/365 for you, ready to get your information out. (Go to the Member Center at www.lakewoodobserver.com-- it's easy.)
100% Lakewood Owned and Operated. Your neighbors for 15 years! (Going on 16.) Thank you!

Jim O'Bryan
Publisher, Lakewood Observer, Inc.
Read More on
Volume 15, Issue 14, Posted 6:32 PM, 07.03.2019