Meghan George Endorsed For Mayor Of Lakewood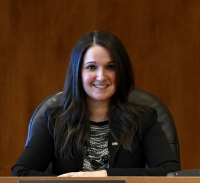 The Cuyahoga County Progressive Caucus (CCPC) has endorsed Councilwoman Meghan F. George for Mayor of Lakewood, following a candidate forum at the Lakewood Public Library on Tuesday, June 25. Only Lakewood members of the CCPC were permitted to vote on this endorsement.

After opening remarks, Councilwoman George put her command of Lakewood's issues on full display in a town hall style, question and answer format. She noted, "My professional experience creating solutions for some of Ohio's largest organizations and businesses has prepared me to manage the challenges we face in Lakewood."

"Meghan's private sector work, coupled with her achievements on council, made the conclusive case that she's the candidate with the experience we need as our next mayor," said Emily Christescu, a Lakewood resident who attended the forum.

The CCPC is the largest activist organization in the county. It has had a significant impact on public policy, and its endorsement is an indication of the strength Councilwoman George has with the voters of Lakewood. CCPC endorsed candidates have won resounding victories in recent Lakewood elections.

Sam O'Leary did not attend the public Q&A event following the controversial endorsement meeting of the Cuyahoga County Democratic Party last week.
Justin Smith
Software engineer and 12 year Lakewood resident.
Read More on City
Volume 15, Issue 13, Posted 6:32 PM, 07.03.2019