Locals Called To Host Refugees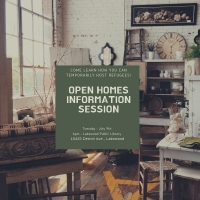 HIAS and their affiliate, US Together, a refugee resettlement agency in Cleveland, are partnering with Airbnb's new Open Homes program to provide temporary housing for refugees. The program is designed to help individuals and families who need temporary housing for several reasons, one of which is refugee resettlement. Temporary housing is provided while the refugees' permanent housing is finalized. Usually, housing for refugees is secured before they arrive. However, extenuating circumstances occasionally happen, and gap housing becomes necessary. This partnership with Airbnb aims to address the need for gap housing by connecting refugee resettlement agencies to volunteer hosts.
To learn more about this exciting new program, please attend one of the Open Homes Information sessions hosted by US Together; Tuesday, July 9th at 6pm, at the Lakewood Public Library – 15425 Detroit Ave., Lakewood and Thursday, July 11th at 6pm, at the Cuyahoga County Public Library, Parma Branch – 6996 Powers Blvd., Parma.
At the information session, attendees will learn what Open Homes is, the need for hosts, and the process to become a host. If you are interested in becoming a volunteer host, but can't attend an information session, you can still register through Airbnb Open Homes and create an account through https://airbnbopenhomes.pxf.io/HIAS-Cleveland If you use this link to sign up, US Together may earn a commission from Airbnb and will be able to connect with you if temporary housing for refugee clients is needed.
Mika Timura
We are a refugee resettlement agency serving Cleveland refugees in Greater Cleveland.
Read More on Non-Profit
Volume 15, Issue 13, Posted 6:32 PM, 07.03.2019