Lindsey Grdina Announces Ward 1 Bid; Endorsed by Cuyahoga County Democrats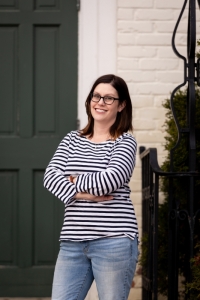 On June 15, 2019, I was honored to have received the endorsement of the Cuyahoga County Democratic Party. The endorsement reflects my deep commitment to seeing Lakewood and its citizens continue to thrive. I understand that we are called to help those who are struggling, and our policies must ensure that we are creating a Lakewood that works for all its residents. I am also committed to seeing Lakewood continue as a haven for independent and small business, a place where entrepreneurship thrives, supported by both the community and the local government. I believe that my brand of compassionate, informed leadership can ensure that Lakewood continues to thrive and grow for this generation and beyond.
I have had the pleasure of calling Lakewood home for over a decade. After graduating from Cleveland Marshall College of Law, I knew I wanted to stay in Lakewood. In 2013 my husband, Ed, and I bought our home on Woodward Ave., just a block away from where Ed grew up. In 2016 we welcomed our first child, Julia, and Oliver joined us in February of 2019.
My desire to serve my community drove me to open my own law firm, Grdina Legal Services ltd., a firm dedicated to giving voice to the voiceless; much of the firm's work centers on the representation of those escaping domestic violence and child abuse, as well as representing indigent criminal defendants, many facing addiction and mental health issues.
In addition to my work as an attorney, I have been an active member of the Lakewood community since moving here over a decade ago. I have served 4 years on the Citizens Advisory Committee, acting as co-chair for 2 of those years. I have helped direct funds to programs that specifically benefit low and moderate-income areas of the city of Lakewood, as well as ensuring funding for programs that have encouraged small business and entrepreneurship in the city. I have also, been elected to the Cuyahoga County Democratic Party Central Committee and Executive Committee twice since 2014. I have used my voice to support strong female candidates for State, Local, and Judicial positions.
Informed Leadership for a Thriving Lakewood. It's not just a slogan, it's the guiding principle for my campaign. Informed leaders are committed to their constituents, they provide timely answers, and act in a transparent manner. Informed leaders take the time to research complex issues, find unique solutions, and have a passion for the community they represent. It's this type of impassioned, informed leadership that I want to bring to the people of Ward 1 as their representative to City Council.
Lindsey Grdina
Lindsey Grdina is a candiate for Lakewood City Council in Ward 1 and the owner & Principle Attorney at Grdina Legal Services ltd. She and her husband Ed love living in Lakewood and raising their family here.
Read More on City
Volume 15, Issue 13, Posted 6:32 PM, 07.03.2019