Former Exchange Student Gives Back To Rotary As RYE Counselor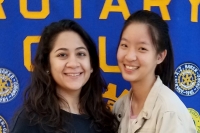 Imagine. You're fifteen years old; 16 days shy of your sixteenth birthday. You're about to embark on an 11-month journey, travel 8,700 miles to a different country, attend a different school, live with families you've never met, speak a language everyday you've only studied in school.
You've chosen to apply for the Rotary Youth Exchange's long-term program in Thailand, your home country. You, your parents, and school have filled out all the forms. You've listed your strengths, weaknesses and ambitions. Your parents have written candidly about your character and maturity. Your commitment is for an entire school year.
Patitta "Pati" Kitcharoenchai knew about Rotary. Her father, Somchart, is a member of the club in Chanthaburi. Since last August, Pati's host club has been the Rotary Club of Lakewood and Rocky River. No stranger to Youth Exchange, the club has had at least one exchange student every year since Lisa Nestorsen (from Sweden) in 1982.
RYE's objectives are simple, succinct and clear – "Instilling international understanding and goodwill in students, creating positive change by empowering youth, and making lasting connections for host clubs, host families, communities, and the students involved."
Exchange students are called "outbounds" by their home (sponsor) Rotary club and district, and simultaneously "inbounds" by their host Rotary club and district in the country where they spend their year. Students who have completed their exchanges are called "rebounds." 80 countries typically participate in the Youth Exchange each year.
Rotary requires that every inbound Youth Exchange student is assigned a counselor. Although an inbound student will rotate through multiple host families during the exchange, the counselor is a constant in the life of the student. The counselor establishes contact with the student before his or her arrival, and maintains regular contact throughout the student's stay in his or her host country. The counselor explains the expectations of the host club, helps the student adapt to the culture and language, and is a constant resource providing support and encouragement.
For 25 year-old Natasha Corrigan, having been a Rotary Youth Exchange student herself, the decision to become a counselor was an easy one. "When I was going through the application process and the decision to become an exchange student, I wanted to see more of the world and learn about another culture firsthand. Growing up in a bicultural home (her mother is from Mexico), I thought it would be good to gain another perspective of the world through the eyes of another culture, while learning another language."
Starting this July, Natasha's mother, Marjorie, will be president of the Lakewood-Rocky River club.
For her exchange, Natasha was placed in Namur, Belgium. "I was blessed with an amazing host family," she relates. "My counselor was a wonderful man. He was a wonderful help during my entire experience. He was always available and warmly welcomed me into the exchange experience. To this day, I am still in contact with him and his family and I see them when I go back to Belgium to visit."
When the opportunity to be a counselor arose last spring, Natasha thought it would be a great idea to be the counselor for the incoming exchange student. "After my exchange year in Belgium, the direction that my life took was a direct result of the amazing experience and opportunity that Rotary gave me. I owe who I am today to Rotary. By being a counselor, I can share and give back to Rotary what it gave me."
"Being a former exchange student and now being a counselor for a current inbound gives me a unique perspective," Natasha continues. "I've been in the exchange student's shoes and I know firsthand what she might be going through. When you are in a new place where you don't know anyone, someone who knows what it feels like to be right where you are is going to be a source of comfort. The more comfortable a person is, the easier they are able to relax and take in all of the new surroundings. They are more at ease."
For Pati, Natasha's decision was unexpected. "The thing that surprised me at first was she had been an exchange student," Pati shares. "It's very easy to me to talk and share with her since she's very young. Before I got here I thought I'd get a counselor who's my parents' age. I'm very glad I got her to be my counselor. I just feel like having a counselor who's close to my age it's easier to talk, it just feels like having an older sister! Natasha's always nice to me. She's so sweet and helpful!"
Pati and Natasha get together at least once a month. "We talk about how's life going and stuff," Pati explains. "If I have any problems, I talk with her. She always helps me a lot, too! She helped me with my dress and shoes for Rotary's (district) conference, my prom dress, and just giving me advice."
Natasha surprised Pati with gifts on her birthday and Christmas. "I just never expected that. It really surprised me." The two enjoy shopping together, or just relaxing. "I helped her to choose her friend's birthday gift. It's really fun to be with her; it's like I have one more host sister! I feel so fortunate having her as my counselor."
Youth Exchange has been a good experience for Pati. "I went on the eastern trip in March and it was so much fun. I got to see many cool places in other states, and learned about history. Another thing was indoor and outdoor track. I'm so glad that I joined. I got so many friends and the important thing was I really learned what hard work is and I pushed myself until I got to be in a junior varsity meet. I was doing two miles. I never expected that to happen since I didn't have running skill at all. This will be an experience that I'll never forget!"
Natasha can't be more positive about the program. "Rotary wants exchange students to maximize on their experience so they can go forth and ultimately help make the world a better place for all," Natasha says. "By having someone who has been right where they are right now, they can also see what it's going to be like a few years down the road.
Exchange doesn't just last one year. It lasts many more than that. You touch people's lives and they touch yours. You make connections and memories to last you for the rest of your life and you build with them.
"Doing the long term exchange was the best decision I have ever made in my almost 25 years of life," she continues. "From exchange student, to rebounder, to counselor for a current inbound, I can only hope that more former exchange students begin to fill more roles as counselors and give back to the Rotary family that has given us so much."
Read More on Civic Groups
Volume 15, Issue 14, Posted 6:32 PM, 07.03.2019