Live Animals At Lakewood Public Library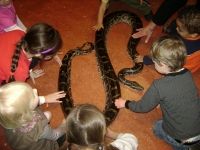 Jungle Terry is a busy man. He has over one hundred animals requiring care, attention, and twice daily feedings. Despite his full schedule, he seems barely able to contain his energy and enthusiasm for his work as an animal trainer, naturalist, educator, and entertainer.
Jungle Terry has worked with animals all his life and began programs in 1990. He now has a specially designed, temperature controlled barn on six acres to house all of his animals. His two children help with feeding and care-taking, and just as importantly, with hand-raising and training the animals. The alligator and fifteen foot python might look scary, but nervous parents take note; all Jungle Terry's animals are kid-tested and kid-friendly.
Jungle Terry will be bringing a selection of animals to the Lakewood Public Library on Friday, June 28, 2019. As with all programs at the library, this show is free and open to the public. The fun starts at 3:00 p.m. in the Main Library Multipurpose Room.
Read More on Library
Volume 15, Issue 12, Posted 2:55 PM, 06.19.2019