LakewoodAlive To Host Volunteer Mixer On June 25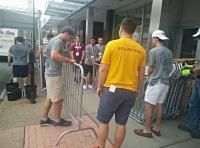 Seeking to get involved in your community and have a great time while doing so? Here's your chance!

LakewoodAlive is hosting a Volunteer Mixer on Tuesday, June 25, from 5:30 to 7:30 pm in the Warehouse Room at Around The Corner (18616 Detroit Avenue). Join us for a casual event to discover ways you can volunteer with our organization.

Complimentary light appetizers will be served, courtesy of Around The Corner. A cash bar will be available.

At its core LakewoodAlive is a volunteer-driven organization, and we rely heavily on the donation of time and talents by our dedicated network of volunteers in order to fulfill our mission to foster and sustain vibrant neighborhoods in Lakewood.

Volunteer opportunities are available in the following areas:
- Special Events
- Housing Outreach
- Committee Participation

Learn more by contacting Devon Chodzin, LakewoodAlive's Event & Volunteer Coordinator, at 216-521-0655 or dchodzin@lakewoodalive.org.
Matt Bixenstine
I am the Marketing & Development Manager for LakewoodAlive. I enjoy all things Lakewood, especially walking my basset hound through Madison Park.
Read More on Non-Profit
Volume 15, Issue 12, Posted 2:52 PM, 06.19.2019