Classical Dance Of India To Be Performed a At Lakewood Public Library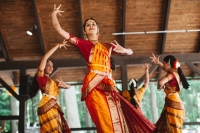 Bharathanatyam may be an unpronounceable word to you, but to Sujatha Srinivasan, it is her life's work. Srinivasan is an accomplished dancer, choreographer, and teacher of Bharathanatyam in North America who began Shri Kalaa Mandir (Center for Indian Performing Arts) in 1993. The dance troupe she founded will perform as part of Lakewood Public Library's celebration of immigrant voices going on this spring and summer.
Shri Kalaa Mandir will give a free performance on Sunday, June 23, 2019 at 2:00 p.m. in the Main Library Auditorium as part of our Sunday with the Friends series. This esteemed group of dancers has been featured at the Cleveland Museum of Art, Playhouse Square, Akron Civic Center and Cleveland Public Theatre. In 2010, Shri Kalaa Mandir won first place in the People's Choice category of India's Got Talent.
The classical dance and music of India called Bharathanatyam combines rhythm, mime and gestures. Traditionally, it has been a solo dance performed exclusively by women and expressed South Indian religious themes and spiritual ideas. Bharatanatyam style is noted for its fixed upper torso, legs bent or knees flexed out, combined with spectacular footwork and a sophisticated vocabulary of sign language based on gestures of hands, eyes and face muscles.
Join Srinivasan on June 23, 2019 at the Lakewood Main Library for a look into the creativity and tradition of Bharathanatyam.
Read More on Library
Volume 15, Issue 12, Posted 2:55 PM, 06.19.2019