Birchwood Students Win National History Day Competition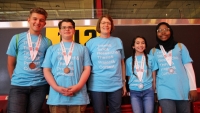 Over 3,000 students in grades 6-12 from across the world met at the final level of National History Day June 9th-13th. After winning local and regional levels the top two entries in each category were invited to the University of Maryland, College Park, to compete on the national stage, where local students earned well-deserved recognition. Birchwood sent ten students to the competition and four of them placed in the top three of their category.
Van Weinmann (8th grade of Cleveland) won the bronze metal for his website, "Selma - How the Media Transformed a Tragedy Into a Triumph for Voting Rights." His modern media presentation explored the impact of the news coverage of 54 years ago.
Exploring the life and impact of one of NASA's black women mathematicians, Sofia Boyd (7th grade of Cleveland) and Nasreen Shakur (7th grade of Cleveland) won second place for their performance titled, "Katherine Johnson: A Quiet Triumph in a White Man's World."
Tackling a local event, Ehren Collins (8th grade of Lakewood) won third place for his historical research paper, "Collinwood's Call to Action: The Collinwood School Fire Tragedy and Its Impact on Fire Safety."
Each of the thousands of documentaries, exhibits, papers, performances, and websites in this year's competition explored a topic on the theme of Triumph & Tragedy in History. Students not only explored the history, but also its impact on current times, truly bringing history to life.
National History Day began as a local program in Cleveland in 1974 but has grown to include all 50 states, Washington, D.C., Puerto Rico, Guam, American Samoa, China, Korea, and South Asia. Students compete for a portion of more than $80,000 in prizes. First, second, and third place prizes in each category are worth $1,000, $500, and $250, respectively.
National History Day Executive Director Cathy Gorn expressed her awe of the young competitors saying; "I learn something new from these dedicated and passionate students every year. Not only do they gain invaluable academic experience, but they become experts themselves in their topics."
Birchwood School of Hawken is a private, coeducational school in Cleveland, Ohio. Founded in 1984, Birchwood serves students in kindergarten through grade 8. Birchwood's mission is to equip children to lead a life of becoming – growing, thriving and flourishing – through the development of intellect and character.
Aubrey Fox
Birchwood School alumni writing some press releases for them.
Read More on Schools
Volume 15, Issue 12, Posted 2:52 PM, 06.19.2019