A "New" Home For The Lakewood Historical Society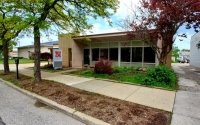 Have you seen the Lakewood Historical Society's "new" permanent home? A mid-century Lakewood space now houses the Society's collections, library, archives, offices and fundraising work space!

The "Detroit-Clarence Medical Building," a 2400-square-foot mid-century modern building at 13314 Detroit Avenue was built in 1959. (It most recently operated as the Ehren Chiropractic Office.) This historically and architecturally significant building has received local historic designation and the Society has been awarded state historic tax credits for its renovation.

Purchased through a generous donation from Society supporters Ken and Kathy Haber and the Haber Family Foundation, the building offers full public accessibility and the opportunity to expand the Society's collection, increase programming, and support fundraising sales! Going forward this generous gift will be gratefully acknowledged through the new name of the building, The Haber Family Center for History.

The Society's Historic Homes

The search for a new facility was rooted in strategic concerns for the future. The Oldest Stone House, the Society's original home, has limited space, which inhibits growth of the collection. The archives, library, and some of the collection have been housed in the Stone House basement, which is not accessible and prone to flooding. The Haber Family Center for History allows for a stable, secure, and climate-controlled environment for the collections. The mid-century modern building also aligns with the Society's interest in securing mid-century objects for its collection.

The Society will continue to manage two historic Lakewood homes in partnership with the City of Lakewood. The Oldest Stone House Museum at Lakewood Park will remain dedicated to interpreting the life of early Lakewood pioneers and to presenting exhibitions related to the development of the city. The Nicholson House, just across the street from the Haber Center, will continue to be a rental space and the site of many Society programs and fundraisers.

Capital Campaign

To complete renovations and operate the new facility, the Lakewood Historical Society has launched the public phase of a two-year, $250,000 Capital Campaign to establish an endowment fund dedicated to the building. This fund will support a permanent home to preserve Lakewood's rich history and provide a spot for the community to meet, research, and appreciate our past and future.

Thanks to many generous donations and pledges thus far, the Capital Campaign has already reached 75 percent of our goal! The Society encourages Lakewood residents and friends to join the campaign - to celebrate and preserve Lakewood's history with a donation or pledge to the Campaign for the Lakewood Historical Society!
Greg Palumbo
Executive Director, The Lakewood Historical Society
Read More on Non-Profit
Volume 15, Issue 12, Posted 2:52 PM, 06.19.2019