Jeff Wise Seeks To Work For Ward 3 On City Council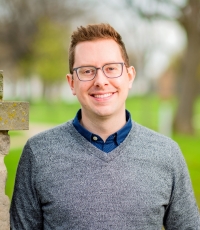 When Jeff Wise talks with people about running for city council in Ward 3, he returns often to one idea: working for Lakewood.

Wise announced his candidacy for council recently. But he has already worked to help Lakewood residents with their government, as a legislative aide in the Ohio Statehouse.

That experience working on constituent issues confirmed the value of public service, which Wise first saw during a high school internship also at the Statehouse. Even in a partisan legislature, he found that hard work and attention to detail got results for Lakewood.

Wise is eager to discuss policy, and has announced several priorities he hopes to advocate on council: reversing recent years' heavy job losses in Ward 3, streetscape and infrastructure improvements, and sustainability initiatives including tree canopy preservation, among others.
What unites Wise's priorities, though, is a concern about what's working for Lakewood, or not.

"I'm running for Lakewood City Council because our city is at a crossroads and residents deserve a choice at the ballot box," says Wise.

Wise emphasizes housing and development issues as key examples. "The key to prosperous neighborhoods is a diversity of housing styles and prices, to serve residents at all stages of life, particularly senior citizens who wish to 'age in place,'" he says. "Proposed developments must be responsible, historically appropriate and respect the feedback of neighboring residents."

Ward 3 residents deserve a representative who listens, says Wise, but actively communicates as well. "I pledge to be an active, accessible and accountable councilman."

"I will strive to unite our community and actively pass legislation to improve our city. I will work hard for you, do things differently and stay in touch by holding frequent town hall meetings and open office hours."

Wise says he looks forward to a positive campaign, focused on good ideas and working to serve residents best. Visit wiseforlakewood.com for more information.
Matt Kuhns
Matt Kuhns is a freelance graphic designer, and occasional author.
Read More on City
Volume 15, Issue 11, Posted 6:03 PM, 06.05.2019