Citizenship Workshops At Lakewood Public Library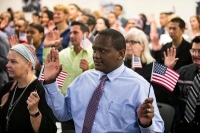 The United States naturalization process can be overwhelming. Are you ready to become a U.S. citizen? Do you need help navigating the paperwork involved? Would you like more information on how to study for the English and civics tests? Learn how to get started in the naturalization process with the assistance of Tri-C Aspire.
This interactive workshop will aid participants through the process of naturalization. Tri-C Aspire will present two sessions of workshops for any community members who are preparing for the citizenship test. Practice test questions in several topics will be shown and test study techniques will be discussed. Participants will learn about community resources including financial assistance, legal assistance, English language learning, test preparation and more.
There will be two sessions occurring this summer. Each session will be two weeks. The first session will take place in the Madison Branch Meeting Room on Wednesday, June 12, 2019 and Wednesday, June 19, 2019 at 7:00 p.m.
The second session will take place in the Main Library Multipurpose Room on Wednesday, July 10, 2019 and Wednesday, July 17, 2019 at 7:00 p.m.
Registration is required. Register by calling 216-226-8275, ext. 127. When registering, please indicate which session you would like to attend.
Read More on Library
Volume 15, Issue 11, Posted 6:03 PM, 06.05.2019