Academic Challenge Team Shines In National Tournament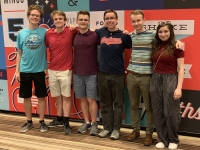 Congratulations to the Lakewood High School Academic Challenge Team on its excellent performance in the 2019 High School National Championship Tournament where the team joined 335 of the top high school quiz bowl teams in Atlanta May 24-26. Lakewood finished the preliminary rounds with a 6-4 record, which qualified the team for the playoffs.

The team was captained by Tim Daso and Michael Ferrone, who were joined by Evan Bell, John Bobik, Aidan Bohac, and Sasha Seckers. The team advisers are LHS teachers Peter Petto and Bob Sedlak.

There were some tense moments for the Rangers. Lakewood defeated Caddo Magnet from Shreveport, Louisiana by the narrow margin of 225-220 during round 11; suffered a heartbreakingly narrow loss to Brophy College Prep from Phoenix, Arizona, 205-190 during round 17; and defeated Galloway from Atlanta, Georgia 225-205 during round 19.

The team's path to the playoffs wasn't easy. The Rangers were on the brink of elimination when they defeated Galloway from Atlanta in round 19 to stay alive. Lakewood High's shot at the title ended when they lost to Homestead from Cupertino, California in round 21. Lakewood High School finished in 97th place. The tournament champion was Beavercreek High School of Beavercreek.
Read More on
Volume 15, Issue 11, Posted 6:03 PM, 06.05.2019