Tess Neff For Ward 1 Lakewood City Council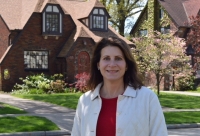 Roots, tradition and experience—that is what I will bring to the Ward 1 seat of Lakewood.
I am a 30-year resident of the city, a city where my husband and I raised three children. My family and I have thrived in Lakewood's long tradition of community values and civic involvement, and it is vital for the city this tradition continues.
My 30-year professional career has been dedicated entirely to public service. I am a former police officer, Lakewood Municipal Court Magistrate, and Cuyahoga County Juvenile Court Magistrate. From these experiences I learned first-hand the importance of public safety. For the last three and a half years I have been the Court Administrator at the Cuyahoga County Juvenile Court, heading the delivery of services to at-risk children and families.
I would apply my experiences to the issues that concern Ward 1 residents, such as road repair, snow and trash removal, maintaining and supporting the housing stock, and of course public safety.
My qualifications will keep the city of Lakewood on its upward trajectory, as a community where all people and families wish to reside.
Tess Neff
I am a 30-year Lakewood resident. My husband Rich and I raised our children here and we both have worked in the community. I love Lakewood and its uniqueness.
Read More on
Volume 15, Issue 10, Posted 9:38 AM, 05.22.2019