St. Peter's Episcopal Church Grand Opening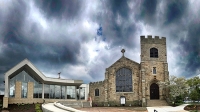 St. Peter's Episcopal Church is inviting the community to celebrate a grand opening and open house for its new program building on June 9. The day will begin with a festive celebration of the Holy Eucharist at 10 a.m. Part of the service will include recognition of the men and women who designed and built the facility.

The $3.5 million building was a decade in the making and funded through a five year capital campaign by church members. An additional half million dollars will be spent on other building renovations and furnishings. This is a significant milestone for the 112 year old congregation, which has anchored the southeast corner of Detroit and West Clifton since 1928.

Most importantly, St. Peter's built the new facility with the community in mind. Every design feature of the building is meant to make the space available to our neighbors and friends, particularly folks with mobility issues. The church is seeking to imagine the ways it can be used to help the community thrive, whether or not the activities be religious in nature.

The new campus is transforming the corner of West Clifton and Detroit with a plaza echoing the Solstice Steps at Lakewood Park. The transformation continues throughout the facility with a full handicapped accessibility. The church campus now features a new chapel/multi-purpose space for the parish and community. There is also brand new space for the children and staff of St. Peter's Childcare Center, Inc., now in its 54th year. The space also includes new offices for the clergy and staff and new meeting spaces for parishioners.

Marous Brothers Construction provided design and construction services, engaging many local vendors and subcontractors. Long recognized for their work in the Detroit-Shoreway and Gordon Square renewal efforts, this was a first project for Marous Brothers in Lakewood.

The celebration will include a picnic on the grounds, during which tours of the new building will be given every 15 minutes. The Rt. Rev. Mark Hollingsworth, Jr., the Bishop of the Episcopal Diocese of Ohio, and many community leaders will join us for a brief ceremony and building dedication at 3 p.m. After the dedication concludes, building tours will continue until approximately 4:30 p.m.

All are welcome!! Come and see!





.


Lorna Jordan
Lived in Lakewood for 20 years. Been a member of St. Peter's Episcopal church in Lakewood for 18
Read More on Non-Profit
Volume 15, Issue 10, Posted 9:38 AM, 05.22.2019