Summer Reading Is For All Ages At Lakewood Public Library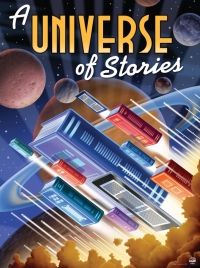 Dream big and explore the universe with this year's summer reading theme, "A Universe of Stories." Starting this year, summer reading is for all ages at Lakewood Public Library. From Monday, May 13 to Monday, August 5, children and adults can read their way through the universe at the Library.
For youth, it's 3... 2... 1... Lift off! Journey to either the Main Library or Madison Branch libraries to sign up for Summer Reading Club! Participants ages birth through twelfth grade will gather stamps and prizes as they go, and a special reward awaits those who complete thirty hours, thirty books, or thirty chapters of reading by Monday, August 5. The fun doesn't end there, either. Arts and crafts abound! Any child with a parent or caregiver can stop by Monday through Thursday, June 10 through July 25, anytime between 11:30 a.m. and 3:30 p.m. and pick up a space-themed craft to do together. Our craft changes each week!
While finishing your reading record is quite an accomplishment, we've got an encore you won't want to miss! Children and their families can attend the Summer Reading Club Party at Madison Park on Wednesday, August 7, from 6:00 p.m. to 7:30 p.m. Fun, games, and prizes await! Teens will have their own party on Friday, August 6, from 3:00 p.m. to 4:30 p.m. at the Main Library. To register for summer reading, stop by the Main Library or Madison Branch Summer Reading Club Desk starting May 13.
Any adult over the age of 18 is eligible to participate in the library's newest addition, the Adult Summer Reading Program. Your beach read or daily commute audiobook could win you a prize this summer! Each time you read a book, eBook, audiobook or graphic novel, enter to win one of our weekly prizes. One book equals one entry and one chance to win. Prize winners will be drawn weekly and entry forms are available at the Main Library, Madison Branch and online. No registration is required for adults.
Read More on Library
Volume 15, Issue 9, Posted 8:01 PM, 05.08.2019