O'Malley To Run For Re-Election In Ward 4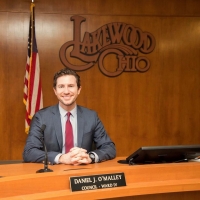 Ward 4 Councilman Daniel J. O'Malley has announced that he will seek a second term on Lakewood City Council this fall. O'Malley has amassed a record of legislative accomplishments, neighborhood improvements, and community growth since first being elected in 2015 and says he wishes to continue that progress.
O'Malley serves as chair of city council's Finance Committee, which provides financial oversight and reviews the city's budget on an annual basis. "I'm proud of the work we've done to make efficient use of Lakewood's taxdollars," O'Malley said. "We've managed to make investments in our services, infrastructure, and workforce without raising taxes."
Among the most evident investments are in Ward 4's parks. "We've invested over $1 million in Ward 4's parks alone," O'Malley noted. "That includes a total renovation of Cove Park, plus major investments in Madison Park."
Last year, Madison Park saw the return of full-court basketball after a 10-year absence. O'Malley included funding for the court in his budget priorities in 2017.
Councilman O'Malley is also proud of the work he's done on behalf of Lakewood's most vulnerable residents. In 2016, when low-income tenants at Lake Shore Towers in the Gold Coast were being charged to remedy the building's bed bug problem in violation of Lakewood's laws, O'Malley stepped in on behalf of the residents. "The policy you have in place is creating a crippling burden on the low-income residents of your building," O'Malley wrote to the building's landlord at the time. "Many of your residents are impoverished senior citizens and in no position to pay for these costly treatments."
O'Malley also introduced an ordinance in 2017 to remove domestic violence as an official "nuisance activity" in Lakewood's code. The change will make it harder for landlords to evict their tenants simply for calling the police when they need protection the most.
The first piece of legislation O'Malley introduced when he took office in 2016 was Ord. 01-16, which protected LGBTQ Lakewoodites from discrimination in housing, education, employment, and public accommodation. The ordinance passed later that year. Organizations like Equality Ohio and Cleveland Stonewall Democrats have hailed the legislation as among the most comprehensive in the state of Ohio. O'Malley also introduced an ordinance protecting LGBTQ youth from the harmful practice of "conversion therapy" in 2018.
Among O'Malley's other accomplishments are a new ordinance repealing Lakewood's long-standing ban on body art establishments, and working to implement a new breed-neutral "dangerous dog" ordinance.
Councilman O'Malley said the part of his job he loves best is being out in the neighborhoods talking with residents. "I much prefer being in the neighborhoods and knocking on doors to being inside City Hall," O'Malley said, noting that he has held dozens of town hall meetings, coffees, and block club meetings since taking office. "When a resident has a problem – whether it's with their landlord, or their neighbor, or the city – there's no better feeling than being there to help solve that problem and make life a little easier for them."
Read More on City
Volume 15, Issue 9, Posted 8:01 PM, 05.08.2019