New Roosevelt Principal Named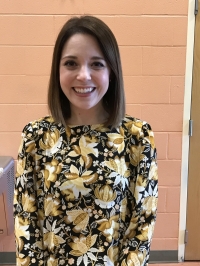 The Lakewood Board of Education at its meeting on April 15 approved Allison Aber as the next principal of Roosevelt Elementary School, replacing Eileen Griffiths, who is retiring. Aber, who is currently principal at Longfellow Elementary School of Willoughby-Eastlake City Schools, begins her position on August 1, 2019.
In her role at Longfellow, Aber provided robust professional development for her staff, implemented a new schedule with collaborative intervention and enrichment at each grade level, created a learning lab makerspace, and was successfully awarded over $20,000 in grant money from the Martha Holden Jennings Foundation. During her time at Longfellow, AIR testing scores improved nearly 10%.
Before her role as principal, Aber served as assistant principal at Madison Local Schools' middle school for four years. Prior to joining the administrative ranks, Aber was a math and language arts teacher working with students in both grades 5 and 6 in the Madison Local and Highland Local school districts.
"I am so excited to be joining the Roosevelt Elementary team," Aber said. "I look forward to meeting everyone and learning more about all of the wonderful things happening at Roosevelt. Together with students, staff, and community, I am committed to working hard to continue to build upon Roosevelt's achievements. I am truly honored to become a part of the Lakewood family. "
Read More on Schools
Volume 15, Issue 9, Posted 8:01 PM, 05.08.2019