Lakewood After Prom Comes Alive!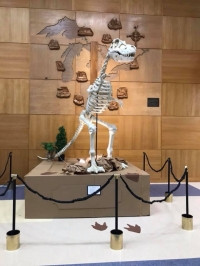 Lakewood High seniors celebrated their prom on April 27 at the Cleveland Museum of Natural History. Afterward, more than 300 students enjoyed food, fun, games and music into the wee hours of the morning at After Prom at Lakewood High. A dedicated committee of parent volunteers organized After Prom, which had the theme of Night At The Museum, based on the popular movies set in museums where the exhibits come alive when the sun sets.

The parent volunteers transformed Lakewood High into a museum complete with 10-foot dinosaur, life-size Easter Island monolith, Egyptian tomb and more. Parents dressed as historic figures including Teddy Roosevelt, Sacagawea, Amelia Earhart and Egyptians, and pulled off the theme to perfection. Over 200 prizes were given out and students could "shop" in the museum gift shop that included a candy bar and photo booth. Students stayed busy until 2:30 am in bounce houses, singing in the karaoke room, playing laser tag or relaxing in the lounge after having their caricature drawn or getting a temporary tattoo.

The committee began planning the event in December and could not have done it without family and community support. Countless parents donated money, time and gifts. Know that your donation was appreciated. We also would like to thank the many local businesses and organizations that generously donated food, prizes, and supplies. We are fortunate to live in such a great community that supports its youth!

Read More on Schools
Volume 15, Issue 9, Posted 8:01 PM, 05.08.2019