WordStage Performs "Give Me Your Tired": Expressions of Immigration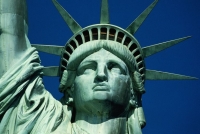 "Give me your tired, your poor, your huddled masses yearning to breathe free" are the words of Emma Lazarus. Her poem, "The New Colossus," has found a permanent place at the base of the Statue of Liberty and in the hearts of people the world over who hope in its promise.
Celebrating America's rich immigrant history through verse is the goal of Travelling Stanzas: Immigrant Voices, a collaboration between Kent State University's Wick Poetry Center and Lakewood Public Library with special funding by the Friends of Lakewood Public Library. The interactive exhibit is open to visitors from March 1 through April 30, 2019 in the Main Library Second Floor Gallery. Madison Branch has a smaller scale interactive component as well.
WordStage is coming to Lakewood Public Library to participate in Travelling Stanzas: Immigrant Voices with a performance that features immigrant stories told through the poetic voice. Join us on Sunday, April 28, 2019, at 2:00 p.m. for this special Sunday With The Friends program taking place in the Main Lower Level Auditorium. The show's poetry will come from community members and influential poets from many lands.
The WordStage Literary Concert Series has been enjoyed throughout Northeast Ohio and Vermont. Producing Artistic Director Tim Tavcar brings the far-reaching talents of local professional artists together with valuable literary works and musical compositions to create an experience that never fails to inform, educate and entertain.
Read More on Library
Volume 15, Issue 8, Posted 12:14 PM, 04.17.2019