Rotary Awards Scholarships To Four High School Seniors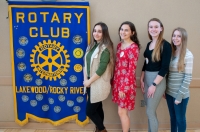 The Rotary Club of Lakewood and Rocky River awarded four college scholarships at its weekly meeting on April 1.
Graduating seniors Semra Dervisevic and Margaret McIlwee from Lakewood High School, Lauren Driscoll from Rocky River High School, and Molly Rogers from St. Joseph Academy each received $3,000 awards from the Lakewood-Rocky River Rotary Foundation. The scholarship program is part of over $60,000 that the Lakewood/Rocky River Rotary Club donates to the community each year.
In addition to demonstrating academic achievement and potential, these four scholarship winners were chosen for their character, extracurricular activities, and community involvement.
Semra Dervisevic is a co-editor on the management team of the Lakewood High School yearbook, in addition to working part-time in the community. She values multi-ethnic communities, and engaged in a lot of community service to refugees through involvement in "Girls Facing History and Ourselves." Semra will study chemical engineering at Cleveland State University where she hopes to use her studies to "spark a change in a person's lifestyle."
Lauren Driscoll is an advanced art student who used her summers to take additional art courses at the Cleveland Institute of Art. Lauren enjoys exploring the interaction of art and technology. She chose to tackle something new during her senior year at Rocky River, leading the design and marketing team for the school's robotics club. Lauren will attend Baldwin Wallace University to study digital media and design.
Margaret McIlwee says that her sophomore year as a Rotary Youth Exchange student in Germany completely transformed her perception of the world. While there she even won her host city's annual 5K run! Margaret played varsity volleyball and was president of the Key Club, while also holding part-time employment in the community. She will study computer science and engineering at the University of Toledo.
Molly Rogers has performed more than 500 hours of service through her school, feeding Cleveland's homeless citizens, playing with physically and mentally disabled children, and serving on the boards of charitable organizations. In addition to playing a variety of sports, Molly has been employed in the community. She has narrowed her search to two universities, and wherever she goes, she says, "I will be the person who brings about positive change to someone who is suffering."
The local Rotary club is part of Rotary International, a worldwide organization of more than 1.2 million business, professional, and community leaders. Members of Rotary clubs (known as Rotarians) provide humanitarian service, encourage high ethical standards in all vocations, and help build goodwill and peace in the world.

There are 33,000 Rotary clubs in more than 200 countries and geographical areas. Clubs are nonpolitical, nonreligious, and open to all cultures, races, and creeds. As signified by the motto "Service Above Self," Rotary's main objective is service – in the community, in the workplace, and throughout the world. To learn more, visit www.rotary.org.
Read More on Civic Groups
Volume 15, Issue 8, Posted 12:14 PM, 04.17.2019