Harding Teacher Headed To Southeast Asia On Teaching Fellowship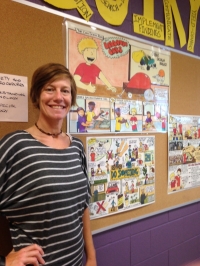 Harding Middle School STEM teacher Laura Baillett has been chosen to be a 2019 Fund for Teaching-Jennings Foundation Teaching Fellow. This award will allow Baillett to observe three environmental education programs this summer in Bali, Indonesia and Borneo, Malaysia: the Green School, the Indo Ocean Project, and the Rainforest Discovery Center.
"My goal is to learn about their curriculum and conservation efforts, and collaborate with them to create my own environmental education curriculum for my classroom," Baillett said. "I can shape my STEM projects to focus on both the foundations of STEM and environmental stewardship. STEM can be transformed into 'enviro-STEM'... This would give my students the environmental awareness they need to start making changes in their school, home, community, and planet."
The Fund for Teaching said Baillett's application stood out for its bold vision and Baillett's commitment to push her own boundaries for learning.
Baillett is involved in many efforts to raise awareness regarding conservation and the environment. She is leading the District's recently formed LkwdGoesGreen task force and has reached out to organizations such as Sustainable Cleveland, The Sierra Club and Drink Local, Drink Tap to help with the group's mission to help the Lakewood Schools community be more environmentally conscious. She also creates cartoons about environmental topics that have been published in local and national publications.
Read More on Schools
Volume 15, Issue 8, Posted 12:14 PM, 04.17.2019