Traveling Stanzas: Immigrant Voices Poetry Exhibit Workshops With Leanne Hoppe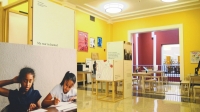 Poetry helps us understand ourselves and others in a way nothing else can. It filters out what doesn't matter and intensifies what does, distilling our collective life experiences into verse. With that in mind, Lakewood Public Library and the Wick Poetry Center at Kent State University present "Traveling Stanzas: Immigrant Voices," an interactive exhibit where inspiration flows in a special space that allows you to create your own poetry and enjoy the poetry of others in our community with the use of creative writing tools, activities and technology.
The display is open to visitors from March 1, 2019 through April 30, 2019 to explore independently, but on Thursday, March 14, 2019 at 7:00 p.m., Leanne Hoppe, local teacher, editor and translator, will lead the first in a series of workshops to explore the different aspects of the exhibit. The display can be found on the Main Library Second Floor Gallery. The Madison branch will have a small interactive component of the exhibit as well.
Leanne Hoppe will return for another workshop specifically designed for individuals 18 and under on Tuesday, March 19, 2019 at 7:00 p.m.
The full list of dates for Leanne Hoppe's Poetry Workshops are:
Thursdays: March 14, 2019; March 28, 2019; April 11, 2019 and April 25, 2019 at 7:00 p.m.
Tuesdays: March 19, 2019 (18 and younger only); April 2, 2019 and April 16, 2019 at 7:00 p.m.
Visiting "Traveling Stanzas: Immigrant Voices" encourages all of us to reflect on our personal worlds of experience and give voice to them through the unique expression of poetry. Join the many individuals in our community who are hoping you will take the time to listen to their stories, and before you leave, tell a few of your own.
Read More on Library
Volume 15, Issue 5, Posted 12:58 PM, 03.05.2019