Friends Of Lakewood Library Spring Book Sale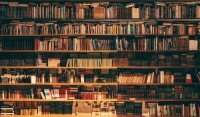 All winter long, the Friends of Lakewood Library have been moving, sorting, stacking and organizing thousands of donations to prepare for the Friends of Lakewood Library Spring Book Sale on Saturday, March 9, 2019 from 9:00 a.m. to 5:00 p.m.
Now this small group of volunteers is working extra hard to get things ready two days earlier for the Members Only Book Sale preview on Thursday, March 7, 2019 from 6:00 to 8:30 p.m. If you would like to shop the early sale, memberships and membership renewals are available at the door for a small fee. The line-up for the sale starts promptly at 6:00 p.m.
While the 2019 book sale season is starting off with the same unbelievable prices, the selection of donated and cancelled library materials is entirely new, including a large collection of vinyl classical records selling for fifty cents an album, a completely updated biography section and a nice group of medical books. Both hard and soft back books sell for fifty cents each.
Children's books, maps, pamphlets, magazines, VHS tapes and CDs are still ten cents. Jigsaw puzzles, games, DVDs, audio books, games on CD, records and record sets are fifty cents apiece. Titles in the Better Books section are individually priced according to their unique values.
Come browse the amazing and affordable collection of bestselling authors, classics, poetry, cookbooks, mysteries, picture books, gardening guides and romances. Both sales take place in the Main Library Lower Level Friends' Book Sale Area. Only cash and checks are accepted.
Read More on Library
Volume 15, Issue 4, Posted 2:41 PM, 02.19.2019