Mike And Mary Bring Special Valentine-Themed Concert To The Library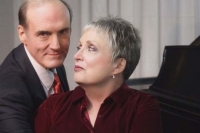 The jazz/pop duo of Mike and Mary specializes in the music of the Great American Songbook. Mike Elkins is an accomplished pianist who performs with a number of area bands, while vocalist Mary Osburn has a background in musical theatre and jazz standards.
Since the date of their concert, Sunday, February 10, 2109, is close to that of Valentine's Day, Mike and Mary will take the opportunity to explore the theme of love -- with all of its joys and sorrows. They will perform some of the most beautiful love songs ever written by composers such as Rodgers and Hart, George and Ira Gershwin and Cy Coleman.
Mary has loved music her entire life. When she was a baby, her mother played Artie Shaw's "Begin the Beguine" to soothe the colicky Mary. Mike studied jazz piano with Cleveland jazz legend, Hank Kohout. In deciding which pieces to perform, Mike and Mary look for songs with "beautiful melodies, harmonic sophistication, meaningful lyrics and emotional impact."
Mike and Mary's concert takes place on Sunday, February 10, 2019 at 2:00 p.m. in the Main Library Auditorium. Admission is free and open to all.
Read More on Library
Volume 15, Issue 3, Posted 2:00 PM, 02.05.2019