HBO Star Bryant Carroll Teaching Acting Classes In Lakewood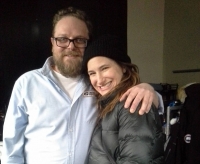 Star of stage and screen, Bryant Carroll of HBO's critically acclaimed "Boardwalk Empire" and Showtime's "Happyish" will be teaching Scene Study and Auditioning classes for both adults and teens at the newly opened West Side Actor's Studio on Madison Avenue.
Carroll, who grew up in Cleveland, started his career dancing with Cleveland Ballet and Cleveland Opera, has worked with such Hollywood heavyweights as Steve Buscemi ("Resevoir Dogs," "Boardwalk Empire"), Kathryn Hahn ("Happyish," "Bad Moms"), the late great Michael Clarke Duncan ("Green Mile"), Tommy Chong (Cheech & Chong), Dan Lauria ("Wonder Years.") His latest movie was filmed right here in Lakewood, the dark comedy "Anhedonia," starring Breckin Meyer ("Clueless," "Road Trip") and Emily Kinney ("The Walking Dead") and Giselle Eisenberg ("The Wolf of Wall Street," "Life in Pieces.")
"Blue Bloods" Actor Shaun O'Hagan credits Carroll for much of his success as an actor. "When I started working with Bryant my bookings increased by ninety percent," said O'Hagan.
Adult Scene Study & Audition Class
​This class is geared towards adults wanting to learn how to break the scene down and make split decisions that will help you book jobs and get paid! The first week begins with an evaluation of where the student is and where they need to go. In the following weeks students work on prepared scenes that will be analyzed and workshopped
Teen On Camera & Audition Class
In this six week class students, ages 13-17, learn the dos and don'ts of auditioning as well as the art of scene study. Students will learn how to break a scene down to get to the heart of each scene. They will also learn how to create the emotional arc that is needed to bring a fully fleshed out character to life. Final scenes are taped each and emailed to each student so that they can see what progress has been made.
The class is limited to 10 students and is scheduled for Saturdays, beginning February 9 from 10am-1pm.
Creative Director of West Side Actor's Studio Eric Swinderman is very excited to offer this service to Lakewood and the surrounding areas. "Lakewood is very lucky to have access to an actor of Bryant's experience and caliber," said Swinderman. "Anyone looking to break into the business from this area, needs to be in this class."
Westside Actor's Studio is located at 15022 Madison Avenue on the corner of Elmwood. For more information and to enroll, visit www.westsideactorstudio.com
Eric Swinderman
Eric Swinderman is an Emmy nominated and award winning filmmaker and TV producer from Lakewood, Ohio. He is the producer of Made in Cleveland, an independent film shot in northeast Ohio starring Busy Philipps (Cougar Town, Freaks and Geeks) and Gillian Jacobs (Community, Love.) A graduate of Cleveland State University, he also worked as a producer at NewsChannel 5. His most recent film Anhedonia, starring Breckin Meyer (Clueless, Road Trip) and Emily Kinney (The Walking Dead) was filmed last year in Lakewood.
Read More on City
Volume 15, Issue 3, Posted 2:00 PM, 02.05.2019