Great Lakes Theater presents "Treasure Island" At Lakewood Public Library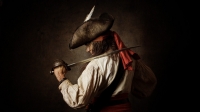 Picture a pirate. Does he have a peg leg, a tricorn hat, a saber at his side and a parrot on his shoulder? You've just conjured Long John Silver, the pirate from Robert Louis Stevenson's 1883 classic, "Treasure Island." Stevenson gave us this indelible image, as well as an enduring adventure story. Now the Great Lakes Theater is bringing its version of "Treasure Island" to Lakewood Public Library.
On Sunday, February 17, 2019 at 2:00 p.m. in the Main Library Auditorium, Great Lakes Classics on Tour will present playwright Eric Schmiedl's adaptation of "Treasure Island." Each season, Great Lakes Theater presents a fully staged touring production for school-aged children that visits public venues in Cuyahoga and Summit Counties. Inspired by classic literature, these performances also intend to send a strong social message.
Born in Scotland in 1850, Robert Louis Stevenson was inspired by his travels through Europe, America and islands in the Pacific. When his health went into serious decline in the 1880s, he was often bedridden and spent his time writing, producing some of his most famous works, including "Treasure Island" and "Strange Case of Dr. Jekyll and Mr. Hyde."
"Treasure Island" tells the story of Jim Hawkins, a young boy working at his parents' tavern. He befriends an old pirate, who gives Jim a map pointing to an island where treasure is buried. Jim goes off on an adventure at sea, complete with mutinous pirates led by Long John Silver and a battle for the buried treasure. Schmiedl's adaptation takes elements of Stevenson's story, emphasizing adventure and fun. The actors, who use clowning, slapstick, puppetry and music to tell Jim's tale, will stay for a post-show question and answer session.
Read More on Library
Volume 15, Issue 3, Posted 2:00 PM, 02.05.2019