The Rockport Miracles-Part 4 Episode 1: "The Ballad of Derecho Dan"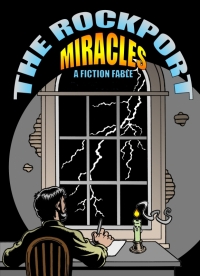 It's a baffling world, but who gives a crap? The only thing I care about is Rockport. Since 1970, when our "storm era" began, learned men and women from the fields of meteorology, oceanography, electrical physiology, sociology and God-ology had arrived in droves to analyze and measure the air, the land, the water, and the moral fiber of Rockport. Conspiracy theorists have had a field day blaming the storms on the military, the Masons, the Russians, the NRA, the CIA, the AAA, and the Beatles. It's all a bunch of crap.
Do-gooders and volunteers who came in droves from all corners of North America and Europe have all left exhausted and unfulfilled. Perennially worthless politicians, anxious to blame the storms on their adversaries and rival parties, had moved on when their constituents started moving out.
The storms have been specific and precise with a recurrent trajectory that has split the town right up the middle. At first, the city and the affected residents tried to rebuild their damaged or destroyed properties. After too many losses from too many storms, the insurance companies refused to write policies for people and structures still standing in "Storm Alley." Meanwhile, everyone else who lived in Rockport saw their health and property insurance rates skyrocket and their home values plummet. It simply became untenable to live in Rockport and a hurtful number of townspeople gave up and moved further west, mostly to River City.
Now, I'm going on record to say that I have never liked River City. It is a newer, more upscale suburb just west of Rockport. I knew some River City kids while growing up and I always thought they possessed a sense of entitlement. You could always tell a River City kid from a Rockport kid. Rockport kids wore spectacles whereas River City kids wore contacts. Most River City girls have straight blonde hair and the boys have curly brown hair, even when they're brother and sister!
One out of every five persons who live in River City is an orthodontist. As a result, a large segment of their population confidently stroll around with perfectly straight teeth. Finally, you can tell a River City person by their shoes. They all wear boat shoes. That's because they all either have a boat, have a neighbor with a boat, or they crew a boat. They wear boat shoes 24/7 and at weddings and funerals. A River City person walking toward you wearing a white duffer's hat means, "Excuse me, I have to get to the boat."
I'm bitter toward River City. While Rockport remains under siege, the mayor of that insipid hamlet and his developer cronies are building new housing developments to lure away Rockporters. It's a plan that has worked very well and the River City mayor, Bart Ridgewood, has grown rich from Rockport's tragedy. Those of us who choose to stick it out have become squatters in the old worthless Rockport homes that had been abandoned. The "old money" of Rockport had built rows of beautiful lakefront mansions that now lay in ruin. My grandparents owned one of them and it is from there that I am writing these recollections.
I loathe River City and that is why I take no small delight in telling a story from Year 5 of the storm era when River City got its well-deserved come-uppance. It's the story of a local hero and Rockport legend known as "Derecho" Dan.
Before I go any further, let's all understand what a "derecho" is. It's a type of destructive storm characterized by fierce straight line winds that can reach hurricane speeds. A derecho storm is like having an out of control freight train barrel through your neighborhood and they typically occur throughout the Midwest and Great Lakes regions. They became a monthly phenomena for Rockport starting in January 1970. Why the storms are occurring is still unknown and some say the science to understand this weather phenomena hasn't been invented yet. That's a bunch of crap, too. Somebody always know something. They just aren't telling us anything, whoever 'they' is.
"Derecho" Dan Newman III is a regular guy. He puts his shoes and socks on one foot at a time and he likes potato chips and tuna salad sandwiches. He is the son of "Big" Dan Newman, Jr. and the grandson of "Old" Dan Newman, Sr. Back in the early days of the automobile, Dan Sr. started the first gas station in Rockport and called it, "Old Dan's Gas & Lube." In time, the Gas & Lube became a historic Rockport institution. Everybody took their cars to "Old" Dan's Gas & Lube.
During the 1950's, the Gas & Lube's torch was abruptly passed from father to son when Old Dan Sr. suddenly died after mouth siphoning gasoline from a Buick Roadmaster. Following his funeral that was attended by hundreds of people, the garage was proudly rechristened as "Big Dan's Gas & Lube." Not surprisingly, everyone still took their cars to "Big" Dan's.
"Big" Dan was well supported by his wife, Wilmena, who everyone called "Mrs. Dan." She helped at the cash register and pumps and did the bookkeeping. With the birth of Dan III, the next piece fell in place for a future generation to inherit the Gas & Lube. When Dan III reached his teens and began learning the ropes of the family business, "Big Dan" christened him "Little Dan" and the garage was renamed as "Big Dan's and Little Dan's Gas & Lube." It's needless to say that everybody still took their cars to Big Dan's and Little Dan's.
With a successful past, a thriving present, and a hopeful future that blessed all who labored at the Gas & Lube, Little Dan's parents felt joy, and security for their son's future.
Then, the storm era came along. At first, the resilient Gas & Lube was able to hold its own until one day when it turned into a skid that would forever change its path. Following 5 years of storms, Big Dan, Mrs. Dan, and Little Dan all found themselves trapped in a world where nothing would ever go right again.
NEXT: Part 4: Episode 2: "The Ballad of "Derecho" Dan" continues
© 2019 Scott MacGregor-EOI Media Press Inc.
©2019 Illustration by Rob Masek
©2019 Illustration by Greg Budgett
Catch up on previous episodes at: http://lakewoodobserver.com/download-issues
Read More on The Rockport Miracles
Volume 15, Issue 3, Posted 3:56 PM, 01.22.2019